'Calculation and deliberation': Colorado killings planned months in advance
Published time: 22 Jul, 2012 07:57
Edited time: 23 Jul, 2012 00:57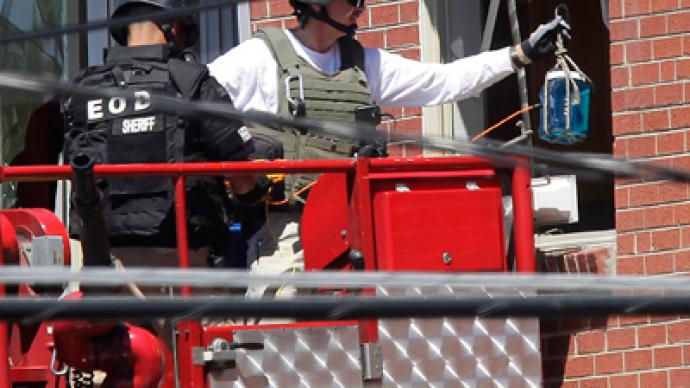 The Colorado cinema massacre that left 12 people dead was the product of meticulous planning, say US police. The killer had stocked up on ammunition and bomb-making materials months before the attack.
American authorities described suspect James Holmes' apartment as a deathtrap, rigged with booby traps to kill "whoever entered it." Police disposed of the explosive materials Holmes' had stashed in his flat in controlled explosions on Saturday.
The PHD honors student had been receiving deliveries of ammunition and bomb-making materials up to four months prior to the attack, according to a preliminary police investigation.
Investigators suspect that Holmes had been stockpiling weapons in his apartment. Officers found about 6,000 rounds of ammunition and several magazines, including a drum magazine capable of firing 50 to 60 rounds per minute at the scene of the shooting.
The ammunition had been purchased in the last 60 days, Aurora police chief Dan Oates told reporters.
"He had a high volume of deliveries," Oates said. "We think this explains how he got his hands on the magazines and ammunition," said the chief of police.
"What we're seeing here is evidence of some calculation and deliberation," Oates added.
Holmes also purchased magazine holders, an urban assault vest and a knife for over $300 on July 2 from an online supplier of equipment for military and police personnel, tacticalgear.com.
The site's CEO, Chad Weinman released a statement on Saturday saying that he was "appalled" that tacticalgear.com sold Holmes the weapons.

However, he also stressed that there was nothing strange about that particular order as the company "processes thousands of orders a day which include this type of equipment."

Holmes had also tried to apply to join the Lead Valley shooting range in late June, but was rejected because of "weird" behavior, said the shooting range's owner, Glenn Rotkovich. In his application, Holmes said he was not a user of illegal drugs or a convicted felon.
Rotkovich called Holmes to invite him to a mandatory orientation but his voice mail greeting was so "bizarre, guttural, and freakish at best" that he told his staff not to accept him into the club.

24-year-old James Holmes, who was described as cut-off and a bit of a loner by his classmates at the University of Colorado medical school, is now being held in solitary confinement for his own protection.
A preliminary hearing has been scheduled for Monday on the charges of multiple counts of first degree murder.
Holmes continues to show no remorse for the cinema killings, workers from the Arapahoe Detention Center where he is being held have said.
Holmes, who is being held under suicide watch in solitary confinement, remained in his murderous "Joker" persona after his arrival, a jailhouse worker told the Daily News.
"He thinks he's acting in a movie," a prison employee told the Daily News.
It remains unclear what Holme's motives were for committing the massacre.
Holmes was arrested by police shortly after the cinema shooting on Thursday night.
He bought a ticket to the screening of the new Batman movie "Dark Knight Rises", propped open an exit door and left the cinema according to authorities. He returned minutes later armed with high-powered weapons and clad in body armor. Holmes then proceeded to toss a gas canister into the screening before opening fire on the panicking cinema-goers, picking off those who tried to flee.

During the attack, the semiautomatic assault rifle used by Holmes jammed, which forced him to switch to another gun with less firepower, a federal law enforcement official told AP. The jammed weapon's 100-round drum magazine had the capacity to fire 50 to 60 rounds a minute, which could have led to more casualties.

Still, twelve were killed and a further 58 were injured in the murderous rampage.

The shooting was the worst since the Columbine High School massacre of 1999, when two students opened fire on their classmates in the Denver suburb of Denver. They killed 12 people and wounding 26 before committing suicide in the school library.