Anonymous member sentenced to three years for hacking police sites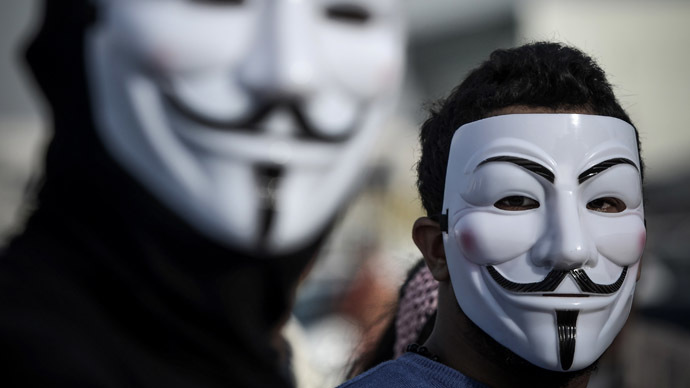 An Ohio man who hacked police department websites as a member of the loose-knit Anonymous movement was sentenced by a federal judge on Thursday to serve three years in prison.
John Anthony Borell III of Toledo, OH has until December 6 to turn himself in to authorities and start serving time for compromising the computer networks belonging to a handful of law enforcement agencies across the United States in early 2012.
Borell, 22, advertised his exploits using the Twitter handle @ItsKahuna and encouraged other self-proclaimed hacktivists to crack websites as part of campaigns run by an Anonymous offshoot called CabinCr3w. He was arrested in March 2012 and initially pleaded not guilty to two counts of computer intrusion for hacking the websites of the Salt Lake City Police Department and the Utah Chiefs of Police Association, but ultimately entered a plea agreement with the prosecution this past April that culminated with Thursday's sentencing.
In his plea deal, Borell admitted he "jeopardized the security of the personal information of many people, most of whom worked in law enforcement" by gaining unauthorized access to agency computer systems and sharing the data he pilfered publically on the Web.
Prosecutors said Borell's actions victimized thousands and cost nearly a quarter-of-a-million dollars to repair.
"Regarding all of these hacks, I knew what I was doing was illegal," he said in his plea agreement.
US District Judge Robert J. Shelby issued the sentencing from a Salt Lake City, Utah courtroom Thursday morning and asked Borell to pay back the $226,000 his targets spent to increase security on their websites after the attacks. Shelby said the sentence would also resolve charges lobbed against Borell in California, Missouri and New York.
Judge Shelby called his ruling a "fair and reasonable" resolution, Dennis Romboy and Pat Reavy reported from court on Thursday for Deseret News. "You have to make a decision to put it all behind you and hold yourself accountable," the judge told Borell. "We don't want to see you in court again."
In pleading guilty, Borell admitted to also compromising the computer systems belonging to law enforcement agencies from Los Angeles, CA and Syracuse, NY, the official city site for Springfield, MO and a community webpage in Illinois called pendletonundergound.com.
Borell's take-downs of the Utah police websites came as a response to SB107, a State Senate bill that would have prohibited the possession of graffiti paraphernalia but failed to be approved in the Utah Legislature.
"The police are the foot soldiers of this government-controlled police state, this op will target them and spread the word that we will not stand and let this oppression continue," Borell told a Salt Lake City Fox affiliate over Twitter after the hacks occurred in January 2012.
"Contact info for job applications, details into drug operations with names addresses license plate numbers, supplier names [and] locations times" was all compromised after accessing the agency's servers, Borell claimed using his ItsKahuna alias.
After CabinCr3w hacked its second Utah site in two weeks, Salt Lake City Police Sgt. Shawn Josephson told Fox, "We're just under the assumption that they have been able to look at everything on our website."
Second Utah Police Site In Two Weeks. Utah, Y U Mad Tho?

— Kahuna (@ItsKahuna) January 31, 2012
One month after the Utah sites were targeted, CabinCr3w announced it compromised the website of the Los Angeles County Police Canine Association and claimed, "we have obtained the names and addresses of over 1000 officers, over fifteen thousand police warrants, hundreds of thousands of court summons, over forty thousand social security numbers of citizens proving the police lack of care for the security of the citizens, anonymous tips of criminal informants pertaining to narcotics, criminal informant information and thousands of online police reports."
Previously, CabinCr3w took credit for hacking the website for the LA County Police Canine Association following a crack-down on an Occupy Wall Street encampment in late 2011. In that instance, the group published the personal information of around two dozen local cops.
Shortly after Borell was arrested in March 2012, the Federal Bureau of Investigation said they suspected he was also involved in hacks targeting LA-area law enforcement. The FBI later admitted in court documents that it subpoenaed Twitter and other Internet companies for online records pertaining to accounts registered by Borell, including the ItsKahuna handle.
"You can't arrest an idea," Borell wrote from his Twitter account after he was caught by the FBI. "United As One. Divided By Zero."
You cannot arrest an idea.

— Kahuna (@ItsKahuna) April 17, 2012
United As One. Divided By Zero

— Kahuna (@ItsKahuna) April 23, 2012
Judge Shelby is letting Borell, a newlywed, spend 10 weeks with his family before he must turn himself in to start his sentence. Originally, he faced a $250,000 fine and up to a decade in prison if convicted on both counts of computer intrusion, prosecutors said.
Borell's sentencing hearing happened one-year-to-the-day after Barrett Brown, a Dallas, Texas writer and activist with ties to Anonymous, was arrested by the FBI. Brown faces more than 100 years in prison when he goes before a judge next year to stand trial against an array of charges, including those relating to threatening a federal agent and sharing a link that directed to data stolen by members of Anonymous from the private intelligence firm Strategic Forecasting. Jeremy Hammond of Chicago, Illinois will be sentenced this fall for compromising Strategic Forecasting, or Stratfor. Meanwhile, an Anonymous member-turned-FBI informant, Hector Xavier Monsegur, has successfully avoided sentencing for more than two years by continuing to assist federal investigators. By their own admission, Borell, Brown and Hammond all interacted online with Monsegur's Internet alias "Sabu."
@BarrettBrownLOL if you do any interviews regarding stratfor attack. shout me, #antisec, dkline, the unix terrorist, @sn1ffle, + Steve Case

— The Real Sabu (@anonymouSabu) December 26, 2011
You can share this story on social media: