​Airman shot in stomach by police after a minor traffic accident in Alabama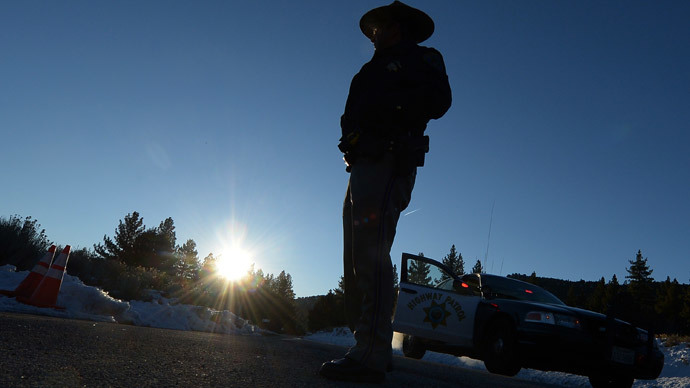 An Alabama police officer shot Air Force Airman 1st Class Michael Davidson in the stomach late last week after Davidson and a tractor trailer had pulled over to the side of an interstate following a seemingly routine, minor traffic accident.
Davidson, a 2012 graduate of Beckville (Texas) High School, was reportedly driving erratically along Interstate 85 on Thursday evening en route from Beckville to North Carolina, where he was to report at Seymour Johnson Air Force Base. After Davidson sideswiped a tractor trailer driven by Samuel Thomas Sanders II, the two drivers pulled their vehicles to the side of the highway.
Before Davidson could speak to Sanders, Opelika Police Officer Phillip Hancock, a seven-year veteran of the force, arrived on the scene. Hancock gave two warnings to Davidson before shooting the young man in the stomach.
"He remembers hearing a yell coming from someone behind him," his father Billy Davidson told The Panola Watchman. "He saw the reflection of flashing lights on the truck he was beside, and realizing it was the police, raised his arms and turned around."
A police report released Wednesday said five empty packets of synthetic marijuana "spice" was found in Davidson's car as well as another open package, but no weapons were listed on the report. According to the National Institute on Drug Abuse, spice "refers to a wide variety of herbal mixtures that produce experiences similar to marijuana…and that are marketed as 'safe,' legal alternatives to that drug."
Following the shooting Davidson received life-saving surgery at East Alabama Medical Center, his father said.
"I saw it first hand. I was right there," Sanders told the Opelika-Auburn News. "…I saw [Davidson], his face. But I didn't see his hands. … I'm guessing he had to have a gun, because [Officer Phillip Hancock] told him to get his hands up twice."
Sanders heard the officer's warnings and threw his own hands up, saying he quickly hit the ground and rolled under his truck as the shots rang out.
Michael's father said after his son was shot, "the officer was yelling at Michael, asking where the 'other person' was. Michael was traveling alone, and has no idea who the 'other person' is."
Sanders stayed under his truck as another officer arrived. "They both basically had their guns drawn on the suspect on the ground," he said. Based on a conversation between officers, Sanders believes a witness had called police to report an erratic driver.
Michael later told his father officers then searched his 2004 GMC Encore, as the badly-wounded young airman attempted to make sense of the events as he laid bleeding on the highway.
"He tried to sit up and asking why he was shot," Billy Davidson said, "but he was pushed back to the ground and told to stay down."
The bullet hit a stomach artery, damaging organs. Michael was transported to East Alabama Medical Center while Sanders was questioned by the Alabama Bureau of Investigation.
Billy Davidson claims he was not notified of the shooting until the next day, saying the police apologized for their slow notification.
"They didn't even have the decency to call and let me know one of their people had shot my son. I didn't find out about it until around lunch time Friday. An investigator calls telling me he was investigating the shooting... and that's how I was told," he said.
Billy said he's concerned about the way police are portraying his son.
"When I got here, I found out they hadn't even been to the hospital to check on Michael. They're trying to make him out to be a criminal or something."
The lack of communication between the family and the authorities led to confusion regarding where Michael's car and belongings were kept. State investigators finally said they will hold the items until the probe is complete.
"He's a great kid. He's so excited to be in the Air Force, he just graduated boot camp and finished up training at Sheppard Air Force Base in Wichita Falls, Texas," Billy said. "He graduated with high grades in F-15 Avionics, and is looking forward to a bright future in the Air Force."
The family's pastor, Mike Daniels of Landmark Baptist Church, was perplexed by the incident.
"People cannot believe it… that Michael got shot on the side of the highway by a police officer," he told the Opelika-Auburn News. "When you meet him, he's the most unintimidating human being you've ever met in your life."
Though out of ICU, Daniels said Michael was told Monday he would likely have to wear a colonoscopy pack his entire life. His future in the Air Force is also in question.
OPD, which has yet to file charges against Michael, announced Wednesday it will hold a press conference on Friday to discuss the incident, Opelika-Auburn News reported. Officer Hancock has been suspended with pay as the state investigation continues.
Michael's father said an Air Force attorney has been assigned to the case.
You can share this story on social media: