After years of living in fear, Afghan interpreter lands in US and out of danger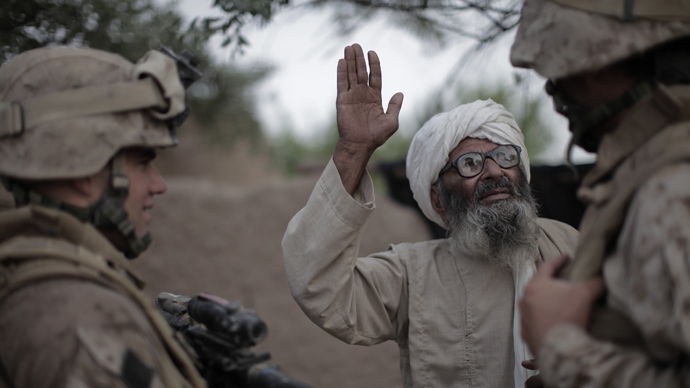 The Afghan interpreter who saved a US soldier's life in the heat of battle has finally set foot on American soil after he and his family spent years enduring death threats from the Taliban while being caught up in bureaucratic red tape in the states.
Janis Shinwari landed in Washington DC Tuesday night after US Army First Lieutenant Matt Zeller launched a desperate public campaign to convince the State Department to grant Shinwari asylum. 
In April 2008, Zeller was driving through the most tumultuous area of Afghanistan when his three-Humvee convoy was ambushed by an overwhelming number of Taliban fighters. Lost and confused by a series of explosions, the Americans surrounded their vehicle when Zeller heard a burst of AK-47 fire from behind, turning to see two Taliban fighters dead.
It was clear to Zeller, the veteran and former CIA officer later said, that he would have been killed if Shinwari had not come running at the sound of gunfire.
Yet even as US troops prepare to completely pull out of Afghanistan next year, Shinwari and countless other Afghan nationals who helped US troops have been denied entry to the US. The Taliban and other insurgent groups have targeted what they see as enemy sympathizers, vandalizing Shinwari's truck and forcing him to move his family around the country while waiting for what is known as Special Immigrant Visas (SIV). 
Zeller eventually started a petition on Change.org for his friend. The page attracted more than 100,000 signatures and persuaded the US State Department to issue the necessary documentation. But in September 2012, after the interpreter had quit his job and packed up his family, the US embassy phoned to tell him that his visa had been revoked and his application placed back under review. 
Shinwari and Zeller complained to international media outlets that the State Department had likely received a fake tip from the Taliban, which hoped to scare the Americans into believing that Shinwari was a risk to national security. 

After Zeller said he had no choice but to "shame and embarrass" the government into lifting the freeze on Shinwari's application, the situation was resolved. 
"I got my last member of my unit home," Zeller told CBS This Morning. "I can breathe a sigh of relief for the first time in five years. I got my buddy home." 
His tone was in refreshing contrast to interviews he gave just one month before, in which Zeller warned that Shinwari would "no question" be killed if not granted an SIV. 
"I had a brother here to fight for me, and I was thinking that I can make it," Shinwari said. "What he promised to me, he did it…He promised me that when he was leaving he told me that one day he will bring me home, and the United States is my home."  
With help from local community leaders, Zeller launched a website where the public can make donations. Shinwari said he hopes to make a home in the Washington DC area and continue the profession he mastered in the war zone. 
"First of all, I'm trying to find a good house, and after that, a good job for me," he told the Huffington Post. "I'm trying to find the same job that I did back in Afghanistan, interpretation, because it's my profession and I'm a good interpreter. I will talk to my brother Zeller."
You can share this story on social media: