Iraq, Afghan wars 'most expensive' in US history, drained defense budget for decades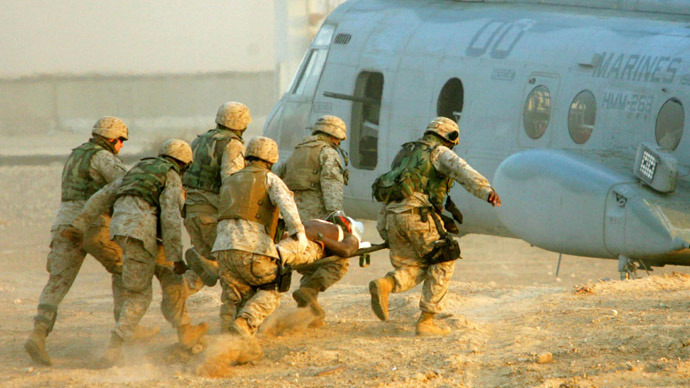 The US wars in Afghanistan and Iraq will cost taxpayers up to $6 trillion, "the most expensive wars in US history," a new report has revealed, adding that these campaigns will dominate future federal budgets "for decades to come."
"The US has already spent close to $2 trillion in direct outlays for expenses related to Operation Enduring Freedom (OEF), Operation Iraqi Freedom (OIF) and Operation New Dawn (OND)," said the 21-page Harvard report, titled 'The Financial Legacy of Iraq and Afghanistan: How Wartime Spending Decisions Will Constrain Future National Security Budgets.'

The report also pointed out that this spending was "only a fraction" of total war costs. The "greatest expenses," which the report said were medical care and disability benefits,  have yet to be paid to soldiers. In the future, an estimated 2.5 million veterans will receive state benefits.

"The legacy of decisions taken during the Iraq and Afghanistan wars will dominate future federal budgets for decades to come," the report said, adding that the highest cost of payouts to WWI veterans only fell about 50 years after the end of the war.

Military benefits were increased in 2001, prior to the Iraq war, in terms of quality, quantity, availability and eligibility, placing an extra burden on defense spending. The action was taken to encourage the expansion of the US Military prior to the invasion.

The government is already committed to paying the accrued costs, which currently stand at approximately $836.1 billion, the study reported. Money borrowed to fund war costs has also made the controversial military campaigns even more expensive.

The new estimates top the $4 trillion reported in the 2011 'Costs of War' study conducted by Brown University. A further, more recent 'Costs of War' report published earlier this month found that accrued interest on the nearly $2.2 trillion in expenses would amount to some $4 trillion dollars in the coming decades, suggesting that the overall costs could amount to around $6 trillion.

The projected costs have risen steadily and dramatically since the beginning of the conflicts – in 2003, $81.2 billion dollars was budgeted for the cost of the wars in Afghanistan and Iraq.

The White House downplayed estimates in 2003, saying it was impossible to accurately gauge what costs would be. Iraq alone was anticipated to cost some $50 to $60 billion, Budget Director Mitch Daniels told the New York Times in 2003.

In 2002, senior White House official Stephen Friedman was forced to resign after publicly estimating that the Iraq War could end up costing upwards of $200 billion. Later, in 2007, Defense Secretary Robert Gates asked Congress to approve an additional $42.3 billion for the Iraq and Afghanistan wars.

The human cost of the war is also difficult to ignore. Some 300,000 people have died directly from the warfare, including  an estimated 125,000 civilians in Iraq. The 'Costs of War' report published earlier this month said that with the inclusion of slain journalists, aid workers and insurgents, the minimum death toll had reached an estimated 176,000 to 189,000.

You can share this story on social media: