Pro-gun activist Adam Kokesh arrested after posting YouTube video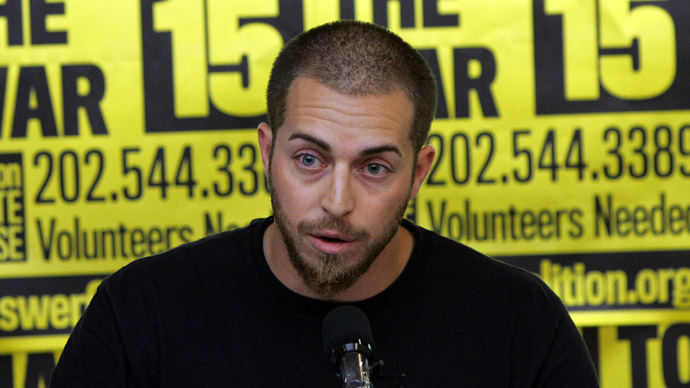 Second Amendment activist Adam Kokesh was arrested Tuesday evening following an armed raid on his home in the Washington, D.C. area.
Police have charged Kokesh, 31, with possession of a Schedule I or Schedule II drug while also in possession of a firearm. According to the Washington Post, charging documents filed in court Wednesday morning said that hallucinogenic mushrooms, a Schedule I narcotic, were found in the raid.
The United States Park Police confirmed that a search warrant was executed on the Herndon, Virginia residence leased by Kokesh late Wednesday, in the wake of a YouTube video posted by the activist on July 4 showing him reportedly loading a shotgun in a DC park only two blocks from the White House. Kokesh uploaded the video after a planned "Open Carry March" into DC scheduled for Independence Day was cancelled amid warnings from police. He had hoped to have hundreds of people march from Virginia into DC carrying firearms in defiance of the city's ban on carrying loaded guns.
Although the July 4 march was ultimately nixed, Kokesh loaded a firearm at DC's Freedom Plaza on film before saying, "We will not be silent. We will not obey. We will not allow our government to destroy our humanity. We are the final American Revolution. See you next Independence Day."
DC laws prohibits people within the city from carrying loaded weapons.
"It was very specifically a call to overthrow the United States federal government," Kokesh told radio host Alex Jones after the video surfaced online. "I think that we have come to the point where we can get a critical mass of Americans to realize that we'd be better off without it than with it."
After the video was posted, Washington Metropolitan Police and the US Park Police issued a joint statement saying they had launched an investigation.
"The Metropolitan Police Department and US Park Police are aware that today Adam Kokesh posted a video that appears to have been taken in Freedom Plaza in Northwest, DC. We are in the process of determining the authenticity of the video," the authorities announced.
In an interview earlier this week with a local NBC affiliate, Kokesh confirmed that he legitimately loaded the firearm.
"I was here, and I loaded a shotgun on Independence Day, but I didn't kill anybody. I didn't drone any children," he said. "I didn't steal any children's future. I didn't sell this country into debt. I didn't do any of the crimes that the man two blocks over at the White House is responsible for."
Law enforcement confirmed on Wednesday that the investigation led them to execute a search warrant at the Kokesh residence, culminating in his arrest.
"We were expecting this," roommate Darrell Young told a local NBC affiliate. "We were expecting the government to raid our house."
Lucas Jewell, a producer for Kokesh's Internet television program, issued a statement early Wednesday saying the search lasted for five hours, during which police "searched every corner of the house with canine units and blueprints to the house."
"Throughout the ordeal, the police repeatedly showed a volatile desire to initiate aggressive, forceful conduct with detainees," Jewell wrote, adding that a personal safe within the home was forced open by police and all items were confiscated. He equates the behavior caught on the July 4 video as an act of civil disobedience.
Additionally, police reportedly hovered over the home with no fewer than two helicopters during the raid and detonated flash-bang grenades upon entering the premises. A battering ram was utilized to enter the home, and the door to the house was rendered inoperable as a result.
Kokesh was scheduled to be arraigned early Wednesday, but a report from a local NBC affiliate updated at 10:19 that morning claimed that Kokesh refused to leave his cell, opening the possibility that he'll be held in contempt of court. He's currently being held at the Fairfax County Adult Detention Center in northern Virginia.
The possession of Schedule I or II drugs is a felony in Virginia that's punishable by up to 10 years in prison and a maximum $2,500 fine. If Kokesh is found guilty of possession of Schedule I drugs while also in possession of a firearm, he will also face an additional minimum of two years in prison.
You can share this story on social media: