Pro-gun activists flood US state capitals defending right to bear arms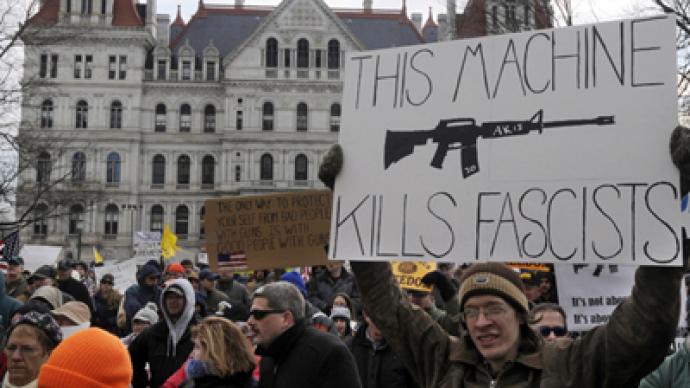 Pro-gun rallies have been held across the US demanding the White House curb its sweeping new gun-control proposals and to defend the second amendment of the constitution.
Thousands of protestors took to the streets across the US, after a massive social-media grass roots initiative called "Guns Across America," called on Americans to defend the right to bear arms guaranteed by the second amendment of the constitution. Most of weapons advocates gathered next to state capitol buildings, where on-going discussions on gun control are taking place following December's Sandy Hook massacre.  Around two thousand people took to the streets of New York. Other locations throughout the nation witnessed crowd of different sizes, from dozens of people in South Dakota to around 600 people Austin, Texas. "An Armed Society is a Polite Society," and "The Second Amendment Comes from God," were among the slogans used by the people to protect their constitutional right. In some states, like Arizona and Oregon, men came with rifles on their backs.In Connecticut where the December 14 tragedy unfolded, more than 1,000 people urged the authorities not implement new restrictions on gun possession. On December 14, 2012, Adam Lanza burst into Sandy Hook Elementary School killing  twenty children and six teachers in Newtown, Connecticut. The second-deadliest school shooting in US history, after the 2007 Virginia Tech massacre, sparked a debate over the fate of the second amendment.This Wednesday, President Barack Obama called on Congress to pass a number of proposals that could allow for sweeping new gun laws across the country. If approved, the measures will ban the buying and selling of certain assault weapons, close loopholes that circumvent a background check requirement, impose limits on ammunition purchases and more.New York Governor Andrew Cuomo signed into law Tuesday gun control legislation banning military-style rifles and imposing tighter restrictions on ammunition.
You can share this story on social media: