Video that led to Aaron Swartz's arrest released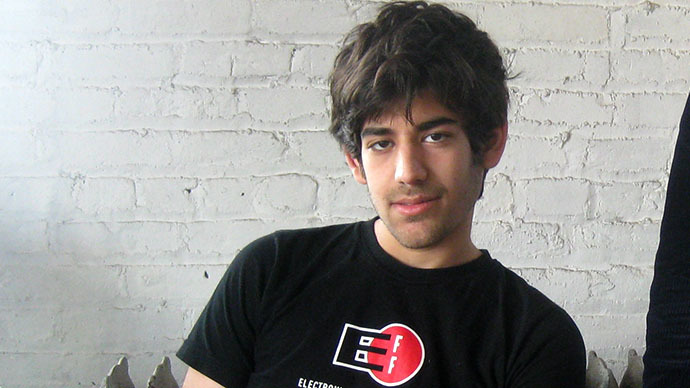 Several minutes of surveillance camera footage used to identify, then arrest and indict late computer prodigy Aaron Swartz has surfaced due to a Freedom of Information Act request.
The eleven minutes of raw video was captured by a hidden camera posted in the corner of an electrical closet at MIT in January 2011 and shows Swartz — a then-24-year-old programmer and activist who years earlier helped code the popular website Reddit — swapping a new hard drive into a hidden laptop that he connected to the school's network in an attempt to download millions of scholarly articles from the academic website JSTOR.
Authorities relied on the footage to narrow in on Swartz days later and ultimately charge him with computer crimes, the likes of which could have cost him as much as 35 years in prison and a million dollars in fines if he had been convicted. His case was months away from going to a jury trial this past January when he hung himself in his New York City apartment and died at the age of 26. Federal charges were dropped shortly thereafter.
Kevin Poulsen — a friend of Swartz and a reporter for Wired — published the video on the internet on Wednesday along with 148 pages of newly-released documents that have just now been relinquished by the government in compliance with a federal judge's order from this summer. Poulsen's efforts to uncover the government's dossier on Swartz following his death had been ignored by the feds until United States District Judge Colleen Kollar-Kotelly compelled the Department of Homeland Security in July to come clean and produce any documents pertaining to Swartz in the possession of their sub-office, the US Secret Service, who along with the Massachusetts District Attorney's Office had been investigating the MIT incident.
The trove of just-released files consists largely of correspondence between the Secret Service and Justice Department officials in the days and weeks after Swartz's Jan. 11 suicide, when reports of his passing sparked digital protests, allegations of prosecutorial overreach on the part of the government and questions from lawmakers. Some documents show a back-and-forth between staffers at the Secret Service's Office of Congressional Affairs and Justice Department officials, who scrambled to gather information on the case days following Swartz's passing after the House Oversight and Government Reform Committee, chaired by Rep. Darrell Issa (R-California), demanded a briefing on their respective roles in the investigation.
"Had he been a journalist and taken that same material that he gained from MIT, he would have been praised for it," Issa told reporters at Huffington Post at this time of Swartz's alleged crime. "It would have been like the Pentagon Papers."
In another document obtained by Poulsen dated only hours after Swartz's death, a Secret Service agent cautioned a colleague, "Given that he is well known through his association with Reddit and Wired magazine, I would not be surprised if there were to be media inquiries / coverage regarding his death."
Swartz FOIA Release 3, from Kevin Poulsen
Indeed, Swartz's legacy and untimely death continue to garner coverage nearly one year after his passing — as evident most clearly by Poulsen's latest piece for Wired and the subsequent media attention that it has already generated: moments after Poulsen's latest finds were published online, the internet quickly erupted with chatter about the silent, 11-minute-long video of Swartz shot at the precise movement that made a federal case fall into place and, according to some, ultimately lead to his death.
"The door to the network closet pops open and a slender figure enters, a bicycle helmet hanging from one arm. He sheds his backpack and pulls out a cardboard box containing a small hard drive, then kneels out of frame. After about five minutes, he stands, turns off the lights and furtively exits the closet," Poulsen wrote of the footage. "Those few minutes of glitchy video — capturing Swartz swapping hard drives on his stashed laptop — would prove fateful."
"Looking at the video, it's easy to see what MIT and the Secret Service presumably saw — a furtive hacker going someplace he shouldn't go, doing something he shouldn't do," Poulsen added. "But photos from the putative crime scene, also released by the Secret Service, add context missing from the video: a concrete support in the network closet is crammed with a jumble of Sharpie graffiti dating back to the early 1980s — earlier generations of hackers at the institution that invented hacking, going places they shouldn't go, doing things they shouldn't do, leaving their mark at the very spot where, on January 4, 2011, MIT lost its tolerance for such behavior."
"Aaron did not commit suicide but was killed by the government," the hacker's father, Robert Swartz, said at his son's funeral service in Highland Park, Illinois last January."Someone who made the world a better place was pushed to his death by the government."
Poulsen, 48, was working with Swartz on a system to securely leak and share sensitive documents that has since been taken over by the Freedom of the Press Foundation and renamed SecureDrop. In 1995, Poulsen was sentenced to 51 months in prison for computer crimes, earning himself the honor of serving what was at the time the longest prison sentence ever for hacking. If convicted, Swartz could have served a sentence as long as roughly eight-times what Poulsen spent behind bars.
An attempt to reform the Computer Fraud and Abuse Act — the hacking legislation which Swartz and so many other so-called hacktivists have been charged under — has been proposed in Washington by members of Congress under the name "Aaron's Law" after his passing.