Anonymous hacks MIT in honor of info activist Aaron Swartz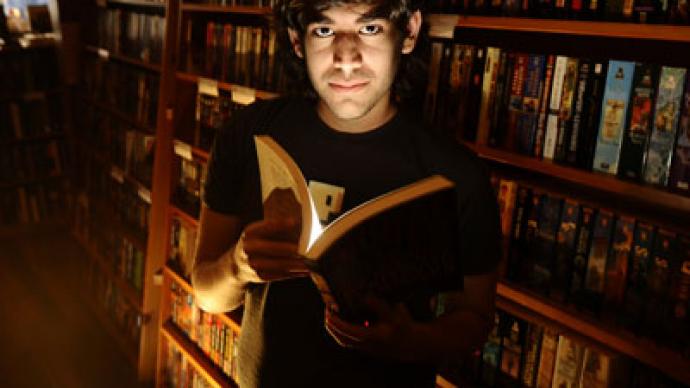 Members of the hacktivist movement Anonymous gained access to MIT's website over the weekend and published a statement celebrating recently deceased info activist Aaron Swartz while attacking the justice system that stood to imprison him for decades.
Swartz, who co-founded both the website Reddit and the activism organization Demand Progress, passed away Friday of a reported suicide. And while he openly discussed his bouts with depression in the past, Swartz' parents and advocates alike have suggested that a serious legal fight that has dominated the activist's life in recent years played a role in his passing.
The 26-year-old Harvard fellow was slated to appear in federal court during the coming weeks because the United States says he illegally download millions of academic papers from the website JSTOR, presumably for public distribution, while logged onto the computer network of the Massachusetts Institute of Technology. David Segal, the executive director of Demand Progress, originally equated it to "checking too many books out of the library." If convicted, however, Swartz could have been sentenced to upwards of 35 years in prison.
In a statement published shortly after his death, the family of the activist said, "Aaron's death is not simply a personal tragedy. It is the product of a criminal justice system rife with intimidation and prosecutorial overreach. Decisions made by officials in the Massachusetts US Attorney's office and at MIT contributed to his death."
"Unlike JSTOR," wrote his family, "MIT refused to stand up for Aaron and its own community's most cherished principles." Hours later, Anonymous hacked into MIT.edu and posted a statement on two pages echoing that sentiment.
"Whether or not the government contributed to his suicide, the government's prosecution of Swartz was a grotesque miscarriage of justice, a distorted and perverse shadow of the justice the Aaron died fighting for — freeing the publically-funded scientific literature from a publishing system that makes it inaccessible to most of those who paid for it," the message read in part.
Through his alleged crime, wrote Anonymous, Swartz "enable[ed] the collective betterment of the world through the facilitation of sharing — an ideal that we should all support." But while JSTOR elected to avert following charges against him — and even planned to release much of their library for free — the Justice Department soldiered on with plans to prosecute Swartz to the fullest extent.
"Stealing is stealing whether you use a computer command or a crowbar, and whether you take documents, data or dollars," said Carmen M. Ortiz, he United States Attorney for the District of Massachusetts, after an indictment was filed against Swartz in 2011.
In addition to staring at a possible 35-year sentence, Swartz also faced up to one million dollars in fine. After an indictment was filed against him in July 2011 for wire fraud, computer fraud, obtaining information from a protected computer and criminal forfeiture, he was released on $100,000 bond.
"The situation Aaron found himself in highlights the injustice of US computer crime laws, particularly their punishment regimes and the highly-questionable justice of pre-trial bargaining," the Anonymous-penned message said. "Aaron's act was undoubtedly political activism, it had tragic consequences."
In addition to the unauthorized posts made in memory of Swartz, hacktivist took down MIT.gov and the website for the Department of Justice, DOJ.gov, using distributed denial-of-service (DDoS) attacks on Sunday. The White House has recently been petitioned to make that method of digital demonstration a protected form of First Amendment-protect protest.
Swartz, a frequent guest and commentator on RT, passed away Friday in New York. Services will be held Tuesday outside of Chicago.
You can share this story on social media: