RT Creative Lab scores panel at SXSW 2022 – biggest tech, film & music festival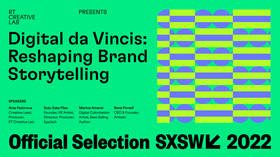 The 2022 South by Southwest (SXSW) has selected RT Creative Lab's panel 'Digital "da Vincis": Reshaping Brand Storytelling' for its festival in Austin – one of the world's premier events showcasing music, film & interactive media.
RT Creative Lab has made it to the nucleus of the SXSW conference programming competing with over 3,000 pitches for the 2022 event that will be held in Texas from March 11-20.
Overall there will be more than 160 sessions curated by top-level speakers from notable companies, universities and creative industries including Adobe, Epic Games, Kill Rock Stars, Meow Wolf, Natural Resources Defense Council, Nickelodeon, the Oversight Board, Spotify, Sundance, Unity and VMware, among others.
RT Creative Lab's panel unites diverse artists and producers working with MR, VR, AR, NFT art and digital colorizations to explore how brands can connect with their audiences through innovative storytelling.It can be found in the Advertising & Brand Experience track and will be hosted by:
Why 'Digital da Vinci's'? Leonardo da Vinci was one of the most prominent brand storytellers of his time. His renowned 'Last Supper', commissioned by the Duke of Milan, depicts a famous biblical scene. Yet one detail remains little-known. Jesus and the 12 apostles da Vinci depicted wear "modern dress" that the people of Milan & the Duke himself would have worn at the time. It was done so that the people interacting with the painting would see the biblical characters as relevant. The relevance that da Vinci worked with is the very same factor driving brands to tell stories in the digital era 500 years later.

In 2019, RT Creative Lab hosted a live panel at SXSW EDU, talking about how social media and storytelling could inspire a personal quest for studying history with the example of its two projects – #Romanovs100 & #1917LIVE.
Also on rt.com
Immersive history: #Romanovs100 & #1917LIVE talk future education at SXSW EDU forum
RT Creative Lab is an Emmy-nominated digital in-house team within the RT international news network. Its campaigns have been recognized in dozens of international and local festivals, winning scores of awards, including Webbys, Clio Awards, Epica Awards, Shorty Social Good Awards and Red Dot Awards, among others.
Want to stay up to date on our new projects? Check out RT Creative Lab's website. Follow RT Creative Lab on social media – Twitter, Facebook, Instagram, and Vimeo.
You can share this story on social media: