'Terrifying Terminator s**t': Robotics firm equips 'robo dog' with night-vision SNIPER RIFLE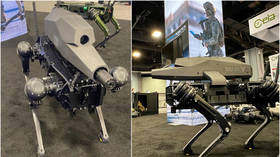 A robotics firm and a gun manufacturer have joined forces to produce what amounts to an animatronic 'dog' with a sniper rifle for a face, managing to terrify more than a few netizens after unveiling the new device at an Army expo.
Dubbed SPUR – or the Special Purpose Unmanned Rifle – the robotic canine packs a gun where its head should be, chambered for 6.5mm Creedmoor rounds, as was first reported by the Drive. The system was developed by rifle producer SWORD International and Ghost Robotics, a Philadelphia-based firm founded in 2015, and made its first-ever appearance this week at the main annual convention for the Association of the US Army in the nation's capital.
While the companies have offered few details about the configuration of the gun mounted atop the robot, they say SPUR can load and fire rounds remotely, as well as clear jams, and is also capable of using the much more common 7.62x51 NATO cartridge in addition to the 6.5mm Creedmoor. Ghost Robotics – which produces a variety of "quadrupedal unmanned ground vehicles," or Q-UGVs – claims SPUR has a fire range of 1,200 meters, or just shy of 4,000 feet. To 'see,' the device uses a Teledyne FLIR Boson thermal camera with a 30X optical zoom, capable of night vision, according to New Atlas.
The US Air Force has adopted one of Ghost's robodogs at its Tyndall air field in Florida, though that particular model does not boast SPUR's "lethality," instead offering an "extra set of eyes and ears" during patrols on the base.
Ghost is far from the first company to roll out some form of robodog, but much like the reaction to Boston Dynamics' infamous 'Spot' robot and numerous other iterations of the concept over the years, many observers online saw SPUR as a step too far, taking what was already an unnerving invention and attaching a gun to its head – what one user described as "crazy looking Terminator s**t."
"Each day closer to Black Mirror," another commenter said, referring to an episode in the sci-fi series featuring a similar dog-like killing machine.
The robotics firm has unveiled other new Q-UGV models this week, including one version sporting a Lockheed Martin quadcopter drone on its back. Keeping with the trend of robotic dogs on the internet, however, Twitter users were no less disturbed, also finding the drone model disconcerting.
Think your friends would be interested? Share this story!
You can share this story on social media: