Promoting democracy abroad 'by example' at home: Biden administration outlines top foreign policy priorities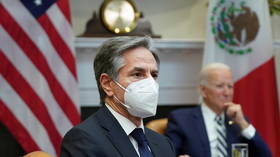 US Secretary of State Antony Blinken outlined the urgent priorities of US foreign policy, arguing that American prosperity at home depends on global leadership, promotion of democracy and protecting the world order from China.
In a speech on Wednesday – the first since he took office five weeks ago – Blinken listed the eight most pressing issues the State Department plans to address, noting that they are linked to domestic policy priorities of the Biden administration.
First, the Biden administration wants to stop the Covid-19 pandemic and "create global health security," since "none of us will be truly safe until the majority of the world is immune," Blinken explained.
The second priority is to reverse the domestic economic crisis and "build a more stable, inclusive global economy." At this point, Blinken more or less disavowed the Democrats' previous commitment to free trade, saying the US needs to "fight for every American job" and stop countries from stealing US inventions or manipulating their currencies. If this sounds like the Trump administration's economic populism, in particular toward China, that's because it is.
Blinken quickly pivoted to the third point, however: the need to "renew democracy" that is under threat worldwide as well as at home.
Also on rt.com
'We have to DO STUFF NOW': Biden adviser says White House to start redressing systemic racism, not just wait for reparations study
"Shoring up our democracy is a foreign policy imperative," because not doing so helps Russia and China "sow doubt" about its strengths, Blinken argued. He also pointed at "rampant" disinformation, "structural racism and inequality" and "violent siege of the Capitol" on January 6.
A strong US democracy will have legitimacy for "defending democracy around the world for years to come," Blinken said, which is needed because "strong democracies are more stable, more open, better partners to us, more committed to human rights, less prone to conflict, and more dependable markets for our goods and services."
As to how the State Department intends to do this, Blinken cited Biden's favorite line about the "power of our example," but he also disavowed violent regime change as something that hasn't worked and gave "democracy promotion a bad name."
We will not promote democracy through costly military interventions, or by attempting to overthrow authoritarian regimes by force.
This is interesting, as Blinken was one of the advocates of the 2003 invasion of Iraq back when he worked as the staff director for Democrats on the Senate Foreign Relations Committee, chaired by then-Senator Joe Biden.
Also worth noting is that Blinken had just met with Juan Guaido, whom the previous US administration tried to install as the president of Venezuela, and expressed support for what is effectively an agenda for regime change in Caracas.
Pivoting to internal issues, Blinken's fourth priority was to create a "humane and effective immigration system" for the US, a "country of immigrants" that needs to address "root causes" of why Central American caravans trek north while welcoming the vulnerable.
Blinken's fifth priority is to "revitalize ties" with allies and partners, the "force multipliers" of US influence abroad. Though the undertone of his remarks here seemed to disavow the previous administration's alleged disregard for these alliances, he echoed the Trump-era argument that the US should not shoulder the burdens alone, and others need to do their part.
Also on rt.com
US slaps Saudi officials with entry bans over 'dissidents abuse', still hails 'sustaining partnership' with Riyadh
The sixth and seventh priorities involved championing climate change issues and "green energy" globally, and securing US leadership in technology, establishing "guardrails" to safeguard democracy from threats like the SolarWinds hack.
Blinken saved the "biggest geopolitical challenge of the 21st" century for last, saying the US must deal with China because it is the "only country with the economic, diplomatic, military and technological power to seriously challenge the stable and open international system – all the rules, values and relationships that make the world work the way we want it to, because it ultimately serves the interests and reflects the values of the American people."
Our relationship with China will be competitive when it should be, collaborative when it can be, and adversarial when it must be.
Washington needs to deal with Beijing "from a position of strength," including standing up for American values such as human rights, Blinken said.
Also on rt.com
Australia is now paying the price economically for its hostility to China and slavish loyalty to the US
The reason so many of these priorities are both foreign and domestic, Blinken argued, is that distinctions between them have "fallen away" and the US "domestic renewal and our strength in the world are completely entwined."
America must lead the world because "whether we like it or not, the world does not organize itself," he said at the start of the speech. If the US doesn't lead, either other countries step in "but not in the way that advances our interests and values" or no one does, "and then we get chaos and all the dangers that creates."
The same argument was recently made by Robert Kagan, husband of Victoria Nuland – who has been nominated to be Blinken's deputy for political affairs – and the co-author of the infamous neoconservative "benevolent global hegemony" platform of the mid-1990s.
However, Blinken also championed the neoliberal talking points, such as that the effectiveness of US diplomacy "depends in no small measure on the strength of our military" and that democracies are inherently peaceful.
Both were championed in the 1990s by New York Times columnist Thomas Friedman – who once quipped that "McDonalds cannot flourish without McDonnell Douglas" the maker of the F-15 jet since bought out by Boeing.
Think your friends would be interested? Share this story!
You can share this story on social media: