Nike to deny donations to Trump-backing GOP lawmakers, jumping on latest corporate virtue-signaling bandwagon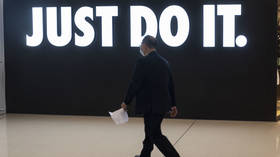 Nike just did it and joined numerous other corporate behemoths withholding support for Republican lawmakers who challenged the outcome of the presidential election and allegedly threatened US democracy by doing so.
The sportswear giant announced on Wednesday that its political action committee (PAC) will no longer donate to any member of the US Congress, who fails to uphold the "principles of democracy", including the 147 Republican legislators, who "voted to decertify the Electoral College results."
Nike joins other companies that have cut off donations to members of Congress who voted to decertify the Electoral College results. Statement: pic.twitter.com/6xT2HlXNIr

— Matthew Kish (@matthewkish) January 13, 2021
Nike is somewhat of a latecomer to the latest corporate trend in the US: signaling a love of democracy by keeping money away from Republican pockets. The likes of Commerce Bank, Mastercard, Marriott, the Blue Cross Blue Shield Association and AT&T have already slapped the same group of lawmakers with their versions of unilateral sanctions.
Greeting cards giant Hallmark went as far as to demand that Senators Josh Hawley and Roger Marshall returned their donations. The statement didn't specify that those amounted to about $3,000 and $5,000 respectively in the 2019-2020 election cycle.
Also on rt.com
Amazon says it will SUSPEND donations to lawmakers who objected to Biden's victory certification, joining a growing list of firms
Others, including Google, Microsoft, Facebook, Goldman Sachs and JPMorgan Chase, have paused all political donations either for review or indefinitely, according to their statements.
Whether such pledges hold in three or six or 12 months is anyone's guess. Corporations are not particularly famous for being idealism-driven organizations, despite all mission statements to the contrary, and tend to put their share prices ahead of the less tangible values.
Great to see Nike take a principled stand by withholding donations to politicians.Now they can keep more of the money they make from slave labor their factories use in a country holding two million ethnic/religious minorities and committing cultural genocide. Good for them!

— Joanne Mason (@JoanneMason11) January 13, 2021
It's safe to assume that if and when the national outrage over the storming of US Capitol building by Trump supporters runs its course in the media, corporate donors will be back to the usual game: playing both sides.
Nike, for example, was happy to donate to the GOP far more than to Dems even as Colin Kaepernick was the face of its ads. It was in 2018, two years before Black Lives Matter protests went mainstream, so the company milked some extra publicity from all the stories about people burning their sneakers to protest its pick of the knee-bending NFL quarterback.
Also on rt.com
Playing both sides: Despite woke advertising, Nike donates big to GOP
And even if the anger perseveres and publicly donating to Republican candidates is still perceived as a liability, it's not like America Inc. is renouncing the right to exercise free speech through unlimited opaque super-PAC donations. Those vehicles for influencing US political life outstripped regular PACs by an order of magnitude in the last election cycle ($3.2 billion vs. $529.3 million, according to the Center for Responsive Politics) and are there to stay, no matter who invades the Capitol.
We talk so casually about how corporations are ending their political donations to the GOP. The fact that politicians are purchased is just accepted.Corporations aren't people. Their political donations aren't "free speech." The Citizens United case should be reversed. #Capitol

— Johnathan S. Perkins 😷 (@JohnathanPerk) January 13, 2021
Like this story? Share it with a friend!
You can share this story on social media: