US House advances bill to urge vice president to invoke 25th Amendment despite Pence saying 'NO'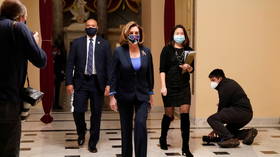 The US Congress has voted to advance a resolution calling on Vice President Mike Pence to initiate a process under the 25th Amendment to oust President Donald Trump from office, despite the VP's objections to the move.
The resolution cleared its first hurdle in the House after a 222-204 vote on Tuesday, with lawmakers voting along party lines. However, while no Republicans openly sided with their rivals across the aisle, seven GOP lawmakers did not cast a vote for the bill but have yet to weigh in publicly to explain their decision. As Congress convened to vote, Vice President Pence issued a statement signaling that he would not take up Democrats' request to invoke the 25th Amendment, saying the move would set a "terrible precedent" and would not be "in the best interest of our Nation," rendering the House resolution largely symbolic.
Also on rt.com
'Would set a terrible precedent': Pence says he WON'T invoke 25th Amendment to oust Trump
Citing Trump's response to a violent disturbance on Capitol Hill last week, Democrats have vowed to impeach the president should Pence refuse to remove him from his post by way of the amendment, which allows the VP and cabinet members to declare a sitting president unfit for office. With Pence declining to do so ahead of Tuesday's vote, Democrats say they plan to float a new article of impeachment this week, the draft of which has already leaked, accusing Trump of inciting "insurrection."
Some Democrats in the House broke with fellow party members over the resolution – introduced by Jamie Raskin (D-Maryland) – one telling CNN the vote was a "total waste of time" that could have been better spent advancing impeachment.
In shooting down the 25th Amendment scheme, Pence also urged Congress to help "lower the temperature and unite our country" following a bitterly contentious election season, calling for a reduction in tensions as President-elect Joe Biden prepares to be inaugurated on January 20. The renewed impeachment drive, however, will likely only inflame hostilities in the waning days of Trump's presidency, mirroring the intense political divides during the first Democrat-led impeachment effort initiated in 2019.
Trump himself has predicted that the attempt to remove him from office would cause "tremendous anger" among his supporters, saying he is the victim of an ongoing "witch hunt," though he insisted that he wants "no violence" to result from the move regardless.
Also on rt.com
Trump says impeachment moves against him are causing anger, but insists 'I want no violence'
Like this story? Share it with a friend!
You can share this story on social media: