"Four more years of... George" Bush or Lopez? Liberals and conservatives clash over who Biden referred to in suspected gaffe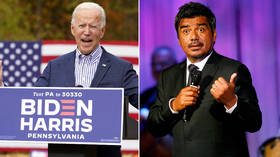 Liberal pundits and Joe Biden supporters are explaining that the former vice president seemingly saying he was running against George W. Bush was actually him referring to comedian host George Lopez, but critics are not convinced.
During a virtual event on Sunday, Biden referred to "four more years of George," leading many, including President Donald Trump, to accuse the Democrat of forgetting who exactly he was running against as he was seemingly referring to either former President George W. Bush or his father, who was president from 1989 to 1993.
"The character of the country, in my view, is literally on the ballot. What kind of country are we going to be? Four more years of George, um… George, um…" Biden said in a clip that has been widely shared.
Also on rt.com
'Four more years of George': Biden mistakes Trump for Bush during campaign event (VIDEO)
Since comedian George Lopez, a vocal Trump critic, hosted the event, many have taken to calling accusations against Biden fake news, saying the comedian was who the former vice president was referring to.
"1.1 million views and a Fox story based on the premise that Biden was confusing Trump with George Bush. He was talking to George Lopez," Washington Post journalist Dave Weigel tweeted.
"Lie after lie after lie after lie," CNN's Jake Tapper added when sharing Weigel's tweet.
Liberal pundit Keith Olermann even encouraged people to "report" the "doctored" video.
He also blasted the president for saying Biden "forgot" his name.
"STFU. Unless your name is George Lopez (we should be so lucky) this has nothing to do with you, a**hole," he tweeted.
"This is the kind of unethical crap they do to spread false narratives," CNN contributor Ana Navarro added about people accusing Biden of making a mistake, adding that she attended the virtual event and knew the former vice president was referring to Lopez.
Lopez himself agreed with Navarro that Biden was referring to him and not one of the former "George" presidents.
Critics, however, have pushed back and claimed the Lopez explanation is actually the fake news.
"Joe Biden said 'Because who I'm running against... Four more years of George' ... Lopez? You must think people are stupid," the account for Trump's campaign tweeted in response to Navarro's explanation, adding a 2012 tweet of her accusing Biden of having "amnesia" for mixing up states and names in public statements.
"How does 'Four more years of George Lopez' make any sense? [And] why was Jill saying 'Trump' to him then? They really don't want you to see what's right in front of your face," author and podcaster Dave Rubin added.
"Boy if journos are going to work as hard to cover every Biden mental gaffe over the next 4 years like they are doing '4 more years of uhh.. George..' they are going to be biz-zay," writer Stephen Miller wrote.
Like this story? Share it with a friend!
You can share this story on social media: