P. Diddy launches 'Our Black Party,' warns white people should be 'scared to death' of Trump & vote Biden to avoid 'race war'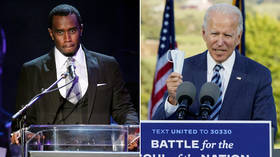 American rapper P. Diddy has made waves announcing a "black political party," but also endorsing Democrat Joe Biden because with Trump in office, "we are on the verge of a race war."
In an interview with radio host Charlamagne Tha God, as well as through a series of tweets, P. Diddy announced the launch of Our Black Party, a new political party meant to "address the needs of black people" through "developing a coalition of people and organizations committed to building black political power."
The rap producer and 'I'll Be Missing You' singer says the party, launched with a handful of black activists, is open to both Democrats and Republicans, but in his announcement, he also threw his support behind Joe Biden.
Also on rt.com
From NWA to MAGA: Fans DISOWN Ice Cube for working on Trump's 'Platinum Plan' for black America
"We need to get Biden in and hold him accountable," Diddy tweeted. "Trump has taken things too far."
The rapper said getting Trump out of office is "the number one priority" and warned that white people should be "scared to death" because with Trump as the US president, "we are on the verge of a race war."
Diddy's race war comment has not earned him many conservative fans, some of whom have accused the Biden supporter of actually threatening such an event if Democrats lose their bid for the presidency in November.
"Democrats have driven this man insane with hatred. He wants a war because of the constant [lies] that Trump is a racist and therefore all who vote for Trump are racists too," conservative filmmaker Nick Searcy tweeted.
"Sounds like Diddy is making a threat," conservative writer Carmine Sabia added.
Diddy says his party is more focused on the "long term" beyond November 3, but in the short term, he wants Trump out of office.
Diddy is far from the only rapper getting attention for his involvement in politics. On top of former Trump supporter Kanye West's independent presidential bid, Ice Cube found himself the target of criticism from liberal activists after it was announced he helped to "revise" Trump's Platinum Plan, an initiative meant to help black Americans by investing more in black-owned businesses, as well as designating the Ku Klux Klan a terrorist organization.
Ice Cube, a vocal critic of the president, claimed on Thursday night that a planned CNN interview had been canceled based on the news that he was working with the administration. He blasted the network and said "they can't handle the truth."
In a Friday tweet, the rapper pushed back against critics calling him a "sellout."
Like this story? Share it with a friend!
You can share this story on social media: