One person killed after shots fired in Denver amid rival BLM & right-wing Patriot rallies, suspect in custody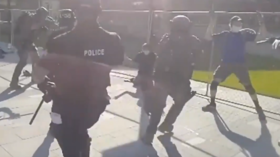 Police in Denver have launched a homicide investigation after one person was shot dead at the site of the duelling right-wing 'Patriot Muster' rally and a Black Lives Matter protest. The alleged gunman was apprehended.
Footage has emerged on social media purporting to show the moment a shooter fired his gun at the victim. Right before the single shot rang out, a burst of orange substance, apparently mace, can be seen rising from the scene.
Police, that were deployed en masse to prevent skirmishes between the rival groups, could be seen surrounding the alleged shooter, telling him to drop the gun. The suspect, who drops on his knees, puts the weapon on the ground and hands behind his back, did not show any resistance as he was being taken into custody by the officers.
The video also shows police trying to resuscitate the victim, who was later pronounced dead.
Also on rt.com
Shooting suspect in Denver identified as 'private security guard' hired by local channel, police say 'no affiliation with Antifa'
Another video shows a shouting match between an apparent Black Lives Matter supporter, donning a "Black Guns Matter" shirt and a man with a pepper spray in his hand. The BLM activist can be seen goading the other man on to spray him with mace. "Mace me, motherf**ker, f**cking mace me," he says repeatedly. As the back-and-forth between the two gets heated, a third man attempts to break out the brawl, prompting the apparent BLM supporter to tell him off. "Don't f**cking touch me," the BLM activist says, before shoving him in the back. "Don't touch me, old man. Don't f**cking touch me old man," he repeats.
A couple of seconds later a sound of pepper spray being discharged and a shot fired can be heard.
It's unclear if any of those involved in the row captured in the video were also involved in the shooting incident.
Amid online speculation that the shooting might be politically motivated, police reported that the suspect was "a private security guard with no affiliation with Antifa."
While police have yet to release the deceased victim's identity, a man can be heard crying "white supremacist" and "right in the f**cking dome" in a video that captured the immediate aftermath of the shooting.
Police reported intially that two suspects were taken into custody at the scene, but Denver Police Investigations Division Chief Joe Montoya told the media that one of them was later determined to have no relation to the incident.
The incident unravelled as tensions were running high in the city, which hosted two parallel rallies - 'BLM-Antifa Soup Drive', organized by the Denver Communists, and a right-wing 'Patriot Muster' rally - on Saturday.
Like this story? Share it with a friend!
You can share this story on social media: