Trump says 2020 election may end up before US Supreme Court, so it's important to fill empty seat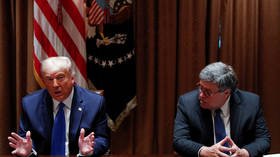 US President Donald Trump again said he wanted to fill the Supreme Court seat vacated by the death of Justice Ruth Bader Ginsburg, because the highest court in the land may end up having to sort out the presidential election.
"I think this will end up in the Supreme Court. And I think it's important we have nine justices," Trump told reporters on Wednesday, at a roundtable with state attorneys-general at the White House.
Asked about the timing of the confirmation, he said it was "better if you go before the election" and that it would be "fairly quick."
Also on rt.com
Trump WILL fill SCOTUS seat despite threat to 'BLOW UP the entire system' from CNN's Don Lemon, White House vows
This echoes the comments Trump made the day before, calling the Democrats' efforts to expand voting by mail "a scam" and "a hoax," adding that having the full Supreme Court bench would be "very important" because of that.
The 87-year-old Ginsburg, known by her fans as RBG, passed away on Friday after months of battling pancreatic cancer. With less than six weeks to go before the election, Trump announced he would announce her replacement this coming Saturday.
Democrats are opposed to any nomination, arguing that Republican refusal to consider President Barack Obama's nomination in 2016 has set a precedent for SCOTUS nominations in an election year. Republicans have countered that their refusal to consider Merrick Garland was different, because the Senate and the White House were not controlled by the same party, as they are now.
Also on rt.com
'When you have the Senate, you can do what you want': Trump to reveal SCOTUS nominee on Friday or Saturday amid Dem protests
Trump ended up filling the seat vacated by the death of the conservative Justice Antonin Scalia with Neal Gorsuch, adding Justice Brett Kavanaugh in 2018 after the retirement of the swing-voting Anthony Kennedy. While this would have technically given the court a conservative majority, Trump has not been happy with the tendency of Chief Justice John Roberts to repeatedly side with the court's more liberal members.
The Supreme Court most recently decided the outcome of a presidential election in 2000, when Democrat Al Gore and Republican George W. Bush contested a number of disqualified votes in Florida. Bush became president as the result of that decision.
Citing the coronavirus pandemic, Democrats have embarked on a campaign across a number of US states to expand the voting by mail and loosen the restrictions on which ballots can be considered valid, as well as the deadlines for their admission.
Trump has pointed to all of those things to argue the Democrats are "setting it up for chaos" and making the upcoming November 3 vote vulnerable to fraud.
Think your friends would be interested? Share this story!
You can share this story on social media: