Vehicles & stores on fire, protesters with guns: Kenosha rioters defy curfew for 2nd night in wake of police shooting (VIDEOS)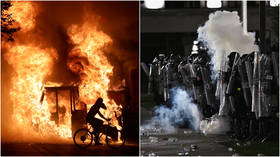 Another night of rioting and vandalism has rocked Kenosha, Wisconsin, with protesters seen setting stores and cars ablaze and clashing with the National Guard and police, who used crowd control weapons against violent rioters.
Neither the deployment of the National Guard, nor the curfew that took effect at 8 pm on Monday evening deterred protesters, some of them toting guns, from taking to the streets of Kenosha for the second night in a row.
The unrest was sparked by the shooting of 29-year-old Jacob Blake, a black man, by police on Sunday. Blake was shot seven times from behind and is now being treated in the hospital for his injuries. The showdown between Blake and the officers, said to be over a domestic violence incident, was caught on a cellphone camera, with the footage triggering mass protests in the city which have quickly spiraled into riots, looting and vandalism.
Also on rt.com
Documents show Jacob Blake, shot by Kenosha cops in riot-unleashing incident, has record of domestic abuse
On Monday evening, protesters set out marching toward the courthouse, protected by lines of officers clad in full riot gear. It did not take long before they began hurling objects at police, who moved to clear out the crowd with control munitions, including rubber bullets and tear gas, forcing those gathered to scatter.
Just like the previous night, the unrest was accompanied by vandalism, with protesters filmed setting fire to garbage trucks parked near the courthouse.
Another video shows a man throwing a Molotov cocktail into a truck, which caught fire within seconds. Blaze TV reporter Elijah Shaffer, who filmed the arson attempt, tweeted that the same man had also destroyed another dump truck moments earlier.
A fire has also broken out at a Department of Corrections facility in the city.
After damaging public city property, protesters turned their anger to private businesses, with another video showing them trashing vehicles at a car dealership.
The vandals have torched several other businesses, including a furniture store, and have torn down street lights.
The first night of mayhem on Monday has left scores of cars scorched and businesses ransacked, prompting Wisconsin Governor Tony Evers to call in National Guard troops to quell the violence.
Think your friends would be interested? Share this story!
You can share this story on social media: