'Must protect our history': Trump announces creation of 'National Garden of American Heroes' monument park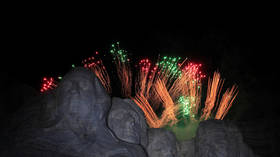 US President Donald Trump has announced a "vast" new monument park to house statues in tribute to "the greatest Americans to ever live," stating that a new executive order will set the project into motion.
"For the sake of our union, we must protect and preserve our history, our heritage and our great heroes," Trump told the crowd at a rally at South Dakota's Mt. Rushmore on Friday night, during a speech largely focused on preserving American history.
Today, under the authority vested in me as the president of the United States, I am announcing the creation of a new monument to the giants of our past. I am signing an executive order to establish the National Garden of American Heroes
Shortly after the speech, the White House released the text of the executive order itself. Though the order makes clear the details surrounding the initiative have yet to be hammered out, including its location and cost, it features a list of 31 historical figures who will be memorialized in the new statue park, among them John Adams, Susan B. Anthony, Ronald Reagan and Martin Luther King Jr. The directive does, however, indicate the park would open on July 4, 2026, effectively assuming a second Trump presidency.
Statues and other historical monuments have again become a hot-button issue in recent weeks, with anti-racism activists descending on a number of sculptures, vandalizing and at times destroying the artwork outright. While the protesters argue the figures celebrate slavery, the Confederacy and abuses of Native Americans, critics have slammed the efforts as attempts to erase American history, a position Trump has also adopted.

The new project was met with approval from Trump's supporters online, some seeing the move as "going on offense" against the statue-defacers.
The announcement was not without its detractors, of course, including neoconservative luminary and rabid Iraq War booster Bill Kristol, who suggested such a memorial park already exists in the form of the Arlington National Cemetery in Virginia, where thousands of American combat veterans are buried across 624 acres. Cost also became a point of contention, with critics arguing the money would be better spent elsewhere.
Think your friends would be interested? Share this story!