DNI head says 'unauthorized disclosures' in Afghan bounty story 'a crime', place US troops 'at risk'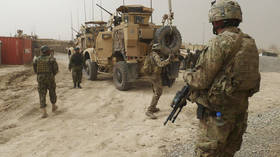 The US Director of National Intelligence said that recent leaks in the media may put US troops at risk and derail the investigation into source-based reports of Moscow allegedly paying the Taliban bounties to kill US troops.
Also on rt.com
'Blood on their hands': Congressman slams NY Times for blowing up ongoing probe in Afghanistan with bogus 'Russia bounty' story
"The selective leaking of any classified information disrupts the vital interagency work to collect, assess and mitigate threats and places our forces at risk. It is also, simply put, a crime," Director of National Intelligence (DNI) John Ratcliffe said in a statement on Monday.
While Ratcliffe did not directly refer to the story, originally run by the New York Times on Friday, which alleged that US intelligence had briefed President Donald Trump on reports that Moscow offered Islamist insurgents in Afghanistan money in exchange for the killing of US soldiers, he stated that the Directorate is "still investigating the alleged intelligence referenced in recent media reporting."
Ratcliffe went on to note that once the investigation is complete, the agency would "brief the President and Congressional leaders at appropriate time."
There was nothing out of the ordinary in how the investigation had proceeded until the media jumped the gun with its reporting, potentially reducing the whole effort to uncover the truth to zero, he said.
Unfortunately, unauthorized disclosures now jeopardize our ability to ever find out the full story with respect to these allegations
The ODNI chief's statement comes shortly after White House spokesperson Kayleigh McEnany said that Trump had never received a briefing on the issue since there was never consensus among US intelligence officials on whether the reports are credible.
Also on rt.com
WH spokeswoman says 'no intelligence consensus' on Russia bounty story, tells NYT & WaPo to 'return Pulitzers' for misreporting
Trump himself cast doubt on the legitimacy of the allegations, noting that he would have already been notified if the US intelligence community believed they were not bogus. He also suggested that the new claims that he decided not to confront Moscow after seeing the intelligence were merely attempts by his detractors in the media to conjure up a Russiagate spin-off.
Moscow has squarely denied the allegations, suggesting the reports will come in handy to those forces that oppose the US withdrawal from Afghanistan, a move long championed by Trump.
Like this story? Share it with a friend!
You can share this story on social media: