'Much smaller crowd than anticipated': Trump praises police as DC protests stay trouble-free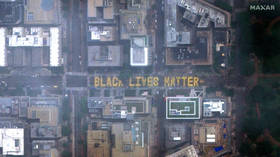 Protests in Washington, DC did not flare up into riots as night descended on the town. President Donald Trump praised the "fantastic job" of the security services, while reporters on the ground described the mood as a "party."
"Much smaller crowd… than anticipated," Trump tweeted around 10pm local time, giving credit to the National Guard, Secret Service, and DC police.
He also took a dig at hostile cable channels CNN and MSNBC, accusing them of trying to incite the crowd to riot, but said that very few people were watching.
Reporters on the ground outside the White House described the atmosphere as a "celebration" or a "block party" that feels like Independence Day festivities.
Activists painted 'DEFUND THE POLICE' across the street near the White House, to go along with 'BLACK LIVES MATTER' which DC city officials painted the day before.
The situation certainly seemed drastically different than last weekend, when demonstrators set fire to a US Park Service building in Lafayette Park, just north of the White House, and damaged the nearby St. John's Episcopalian Church.
Also on rt.com
Historic St. John's Church near White House set on FIRE as protests rage in Washington DC (VIDEOS)
Think your friends would be interested? Share this story!
You can share this story on social media: