Search to identify mysterious US shipwreck ramps up with incredible 3D underwater images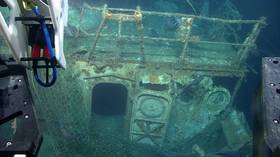 An unknown shipwreck off the east coast of the US has been captured in incredible 3D detail as ocean explorers investigate the mysterious vessel.
The National Oceanic and Atmospheric Administration (NOAA) used a SeaVision laser scanner to generate 3D images of the wreckage, which lies 70 nautical miles south of Rhode Island and about 350 meters (1,150 feet) below water level.
Also on rt.com
Stunning footage of 'cosmic jellyfish' captured in NOAA's expedition (VIDEO)
First mapped by NOAA's Okeanos Explorer during an expedition in 2011, the next step in understanding the ship's mysterious past was a dive on Saturday with a remotely-operated vehicle (ROV) to map it in fine resolution using the Kraken Robotics SeaVision 3D laser imaging system.
On the first dive, the team used their high-tech equipment to scan numbers on the wreck's hull to figure out what ship it is and generate incredible 3D images of the sunken boat. The team is now going back down to find out what else can be uncovered about the vessel as they work to uncover its secrets.
Like this story? Share it with a friend!