Fire up the plane! Pompeo tells Maduro to flee Venezuela via CNN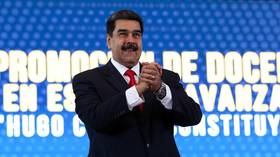 Venezuelan President Nicolas Maduro was ready to fly away to Cuba and leave Caracas to the US-backed opposition leader, but Russia talked him out of it, US Secretary of State Mike Pompeo claimed in interviews.
"He had an airplane on the tarmac, he was ready to leave this morning, as we understand it. Russians indicated he should stay," Pompeo told CNN's Wolf Blitzer on Tuesday afternoon, even as reports were coming in that armed supporters of US-backed "interim president" Juan Guaido were seeking asylum in the embassies of Brazil and Chile in Caracas.
Secretary Pompeo just told CNN's Wolf Blitzer that Maduro had a plane on the tarmac ready to go earlier today... but Russia talked him out of itwow. pic.twitter.com/mouqKcGefW

— Jason K. Morrell (@CNNJason) April 30, 2019
For over a month now, the US has sought to preserve the fantasy that Guaido enjoys popular support, by arguing that Caracas was really under "Cuban occupation." Having already embraced the 'Russiagate' scare-mongering, Pompeo is apparently now adding Russia to the mix.
CNN's Wolf Blitzer did not seem interested to press the point, however, asking Pompeo instead who was worse, Cuba or Russia. A few minutes later, Pompeo repeated his claim about Russia on Fox News, sending pundits there into a frenzy of speculation about Moscow and Trump as well.
Fox replayed Pompeo's remarks later in the evening, before an interview with a former Venezuelan diplomat who spoke in favor of regime change.
Venezuelan Foreign Minister Jorge Arreaza responded by accusing his American colleague of "making up fake news."
Guaido and his backers in Washington had seemed sure Maduro would resign back in January, when the opposition politician declared himself the new president. It didn't happen. Guaido's attempt to force open the Venezuela-Colombia border in late February likewise met with failure. On Tuesday, armed men in blue armbands sought to take over an airbase in Caracas as Guaido called on Venezuela's military to defect. They didn't.
Pompeo maintained that the situation in Caracas was "incredibly fluid" and that "senior leaders inside the Maduro government" had told the US they were prepared to leave the country. He also said he was "convinced that the Venezuelan people are going to get their democracy back."
Also on rt.com
Bolton calls for 'regime change' in Venezuela soon
Along with national security adviser John Bolton, US Vice President Mike Pence and Senator Marco Rubio (R-Florida) – some of the loudest voices for regime change in Caracas over the past four months – Pompeo has a strange definition of "democracy," that seems to include US appointing presidents of other countries.
Think your friends would be interested? Share this story!
You can share this story on social media: