'I Spy': CIA joins Instagram, follow if you dare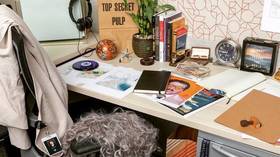 The US Central Intelligence Agency is probably already spying on your Instagram posts, but now you can return the favor. The CIA has officially joined Instagram, with its first post being a picture puzzle.
"I spy with my little eye…" the agency posted on Thursday, launching its (official) presence on Instagram. The photo shows what looks like a desk at Langley, with maps of China, Russia and Iran, a notebook, some books and other spy-related materials.
A closer look at the jacket dangling over the chair shows an employee badge, belonging to none other than current CIA Director Gina Haspel (reportedly from all the way back in 1985), as well as a wig that hopefully no one had to use on an actual assignment.
Instagram is another way the CIA is looking to recruit "talented Americans," spokeswoman Chelsea Robinson told The Verge, promising a "peek into Agency life" but no "selfies from secret locations."
Haspel has been accused of overseeing post-9/11 CIA torture of terrorism suspects, and dubbed 'Bloody Gina' by her critics. She was confirmed by a vote of 54-45 in May 2018, replacing Mike Pompeo, currently the secretary of state.
Under Haspel, the CIA has sought to promote a friendly neighborhood spy agency image, including a presence at the comic-book and geek culture convention AwesomeCon:
As well as the cameo by one of its former deputy directors, David S Cohen, in an episode of 'Game of Thrones' – calling world travel a "perk of working for CIA" that extends even to fantasy realms.
The agency first created social media accounts back in 2014, joining Twitter and Facebook. The expansion to Instagram – owned by Facebook since 2012 – coincides with reports of the platform's growing popularity among teens.
Whether you following the CIA on any of the platforms, however, chances are that the agency is already following you.
Think your friends would be interested? Share this story!
You can share this story on social media: