#StandwithIlhan: Social media users defend Ilhan Omar after her forced apology over anti-Semitism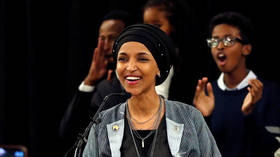 Social media users are flocking to #StandwithIlhan after Rep. Ilhan Omar was pressured to issue an apology for her tweets about the Israel lobby's influence over US politicians, after she was accused of anti-Semitism.
Omar was seemingly forced to apologize by Democratic leadership after she tweeted about Israeli influence and named the powerful Israel lobbying group AIPAC as having a hold over US politicians.
READ MORE:'All about the Benjamins': Ilhan Omar sparks Twitter backlash over 'anti-Semitic' post
Although her statements were backed up, Omar faced an onslaught of outrage from a wide range of commenters, from Chelsea Clinton to President Donald Trump, who said she should be "ashamed of herself." This despite the fact that Trump faced criticism for making anti-Semitic tropes about members of the Republican Jewish Coalition liking money and making deals when he addressed them in 2015.
"I don't think her apology was adequate," he unironically said of Omar.
Omar "unequivocally" apologized for her remarks in a statement which also reaffirmed the problematic role of lobbyists in US politics. This prompted many to accuse her of not apologizing enough, while her supporters expressed disappointment that she was apologizing at all.
READ MORE:'Sorry, not sorry?' Ilhan Omar apologizes for 'anti-Semitic' tweet, reigniting controversy
Many voicing their support for Omar pointed to American values of freedom of speech and shared a petition urging the Democratic leadership to stand up against "bad faith attacks" targeting Omar even after her apology. Others said they had donated to her campaign.
Social media users also provided more information to back up Omar's initial tweets about Israel's influence, and pointed to disconnects between House Leader Nancy Pelosi's statement supporting Israel and denouncing "racism, prejudice and discrimination" in light of freedoms not offered to Palestinians under Israeli occupation.
A former Democratic campaign staffer created a Twitter thread outlining how an Ohio congressional candidate he was working for was approached by AIPAC, which promised a campaign donation in exchange for his candidate making two statements in line with Israel's interests.
The volume of outrage and cries of anti-Semitism from the US establishment seemed to further bolster Omar's comments about the sway the Israel lobby holds over elected officials and the country's two leading political parties.
Ironically, smearing people as anti-Semites is a tactic employed by the Israel lobby both in the US and theUK, as detailed in two Al Jazeera documentaries which saw an undercover reporter infiltrate both the US and UK lobby to reveal methods employed by the groups. The US version was never aired by Al Jazeera as a result of pressure wrought by the Israel lobby and members of Congress, who accused the network of… anti-Semitism.
One clip from the censored documentary shared on Twitter shows former AIPAC Director Eric Gallagher explaining that "everything AIPAC does is focused on influencing Congress."
Think your friends would be interested? Share this story!
You can share this story on social media: