Congressmen call for 'foreign agent' tag for Al Jazeera as it 'digs into pro-Israel lobby'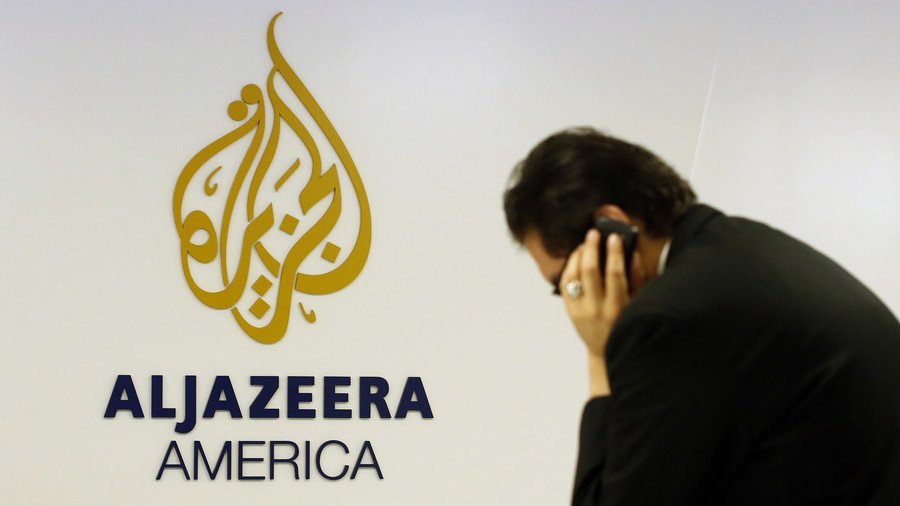 A group of congressmen has called for Al Jazeera to be designated a "foreign agent" for its "anti-American and anti-Semitic broadcasts." This coincided with reports the TV network was releasing a film on the US pro-Israel lobby.
A bipartisan group of US lawmakers have sent a letter to Attorney General Jeff Sessions, urging him to scrutinize Al Jazeera for what they said was undermining American interests. The Qatari government-funded news network, the letter asserted, has a record of "radical anti-American, anti-Semitic, anti-Israel broadcasts."

The letter, signed by Ted Cruz, Josh Gottheimer, Lee Zeldin and others, claims Al Jazeera's coverage also favors State Department-designated terrorist organizations, including Hamas, Hezbollah and Palestinian Islamic Jihad, as well as Al-Nusra Front. The Americans "deserve to know whether the information and news media they consume is impartial, or if it is deceptive propaganda pushed by foreign nations," it urges.
The call to label Al Jazeera comes amid reports that the Qatari broadcaster is about to release an investigation disclosing lobbying groups either serving Israeli interests or trying to silence pro-Palestinian advocates in the US.
Mainstream media rushed to mention that Al Jazeera may soon follow the fate of RT America and Sputnik, which were forced into registering as "foreign agents" by the US authorities spurred by the dubious Russiagate saga. What they failed to mention was the interesting timing of the story.
NEW: Senators & members of Congress sending bipartisan letter to Attorney General Jeff Sessions calling for an investigation into whether Al Jazeera should register as a foreign agent under FARA pic.twitter.com/uwLKcbDGjj

— Anna Massoglia (@annalecta) 6 марта 2018 г.
Citing a source, the Chicago-based online outlet Electronic Intifada detailed the plot of the documentary, which said it took aim at a powerful neocon think tank called the Foundation for Defense of Democracies (FDD). The film is also said to include undercover footage of a former Israeli military intelligence officer named Sima Vaknin-Gil.
Al Jazeera's film reportedly singled out a set of lobby groups that shadowed American citizens using sophisticated data-gathering techniques. The damning investigation was also said to shed light on efforts to smear and intimidate Americans whose views were seen as too anti-Israel.

"We have FDD. We have others working on this," the retired spook said as cited by Electronic Intifada. He added that the foundation, led by ardent anti-Iran scholar Max Dubowitz, was running "projects" for Israel including "data gathering, information analysis, working on activist organizations, [a] money trail."
According to the report, Al Jazeera also covertly filmed Jonathan Schanzer, senior vice president of FDD, who briefed recruits on how to smear Palestine solidarity groups in the US. He lamented that pro-Israeli groups were not doing enough, saying, "I don't think that anybody's doing a good job. We're not even doing a good job."
Some observers drew attention to the fact that FDD and the others are actually operating as "foreign agents" in terms of the infamous FARA law.

"If this is the case, then FDD is functioning as a foreign agent on behalf of the government of Israel, and should be investigated by the Department of Justice for its failure to register," journalist and senior writer for AlterNet Max Blumenthal commented on Twitter.
Retweeting Electronic Intifada co-founder Ali Abunimah, Blumenthal added: "Schanzer admits that anti-Semitism has been cynically weaponized by the lobby to smear its critics and kill the messenger."
Some 400 entities and individuals are currently registered as "foreign agents" under the 1938 FARA law. Until recently, this list contained only a handful of foreign media outlets operating in the US, including the American branch of the South Korean state-funded Korean Broadcasting System (KBS America) and the Japanese NHK public broadcaster. In November 2017, a company servicing RT America was forced to register under the law, or face assets being frozen and the broadcaster's head being arrested.
You can share this story on social media: