Forcing RT to register as 'foreign agent' is a 'horrendous blow to press freedom'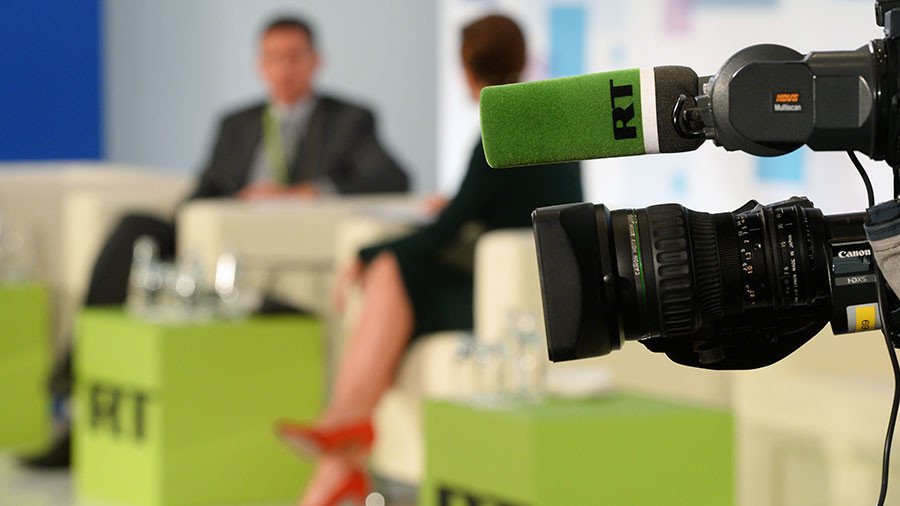 Washington's ultimatum that forced RT to register as a 'foreign agent' under a 1938 law created to counter Nazi Germany has drawn condemnation, with the Committee to Protect Journalists (CPJ) terming it a "troubling precedent."
"Compelling RT to register under FARA is a bad idea. This is a shift in how the law has been applied in recent decades, so we have little information about how its reporting requirements might affect individual journalists," said CPJ North America Program Coordinator, Alexandra Ellerbeck.
The CPJ is "uncomfortable with governments deciding what constitutes journalism or propaganda," Ellerbeck added. The New York-based international NGO, promoting press freedom and protecting the rights of journalists, also said the US authorities "ordering foreign outlets to register could set a troubling precedent."
The CPJ further warned that the current regulations existing under the Foreign Agents Registration Act (FARA) could make the work of a news media outlet – particularly one that actively uses social media – de facto impossible. Entities registered under FARA are supposed to file a copy of everything they publish with the US Justice Department within 48 hours of transmission, the CPJ said, pointing out that this requirement could be technically applied to individual social media posts, text messages, and broadcasts.
The rights group then cited a report by the Justice Department's Office of the Inspector General that said such a rule could create "a constant and unrealistic burden on registrants to submit materials, and on FARA personnel to police their submissions."
Chris Hedges, a Pulitzer-Prize winning journalist, New York Times bestselling author and former professor at Princeton University, said Washington forcing RT to register under FARA is "crude censorship" and "one of the most horrendous blows to press freedom since the anti-communist witch hunts of the 1950s."
The move, Hedges goes on, has "nothing to do with the dissemination of Russian propaganda" but is instead driven by a desire to silence the "critics of American capitalism and imperialism" given a platform by RT America. He also warned that the measures taken against RT are "the beginning, not the end, of a broad campaign against press freedom."
"Once this precedent of state censorship is normalized, far more tepid and compliant media outlets will be targeted," Hedges said.
Russia's Ambassador to the US, Anatoly Antonov, paid a courtesy call to RT's Washington DC offices Monday to voice his support.
"I highly appreciate your efforts in the US as well as in the world. It's very important that you explain to everybody the reality in the world," the ambassador said.
He described the demand for it to register as a 'foreign agent' as an "unfriendly step."
"Is it good or bad? I think, it's bad," Antonov told the media.
The demand for RT to register under FARA is a "politicized witch hunt" and a "precedent for silencing foreign media and even dissident media," Max Blumenthal, US author and journalist, argued, adding that he believes that the crusade against independent media platforms will gain momentum.
Blumenthal noted that the US government did not present any proof, as required by FARA, that RT has been taking instructions from the Kremlin, arguing that the real reason behind its listing is that RT is "providing platform to voices like myself that are critical of US foreign policy, that are critical of NATO expansion, that are critical of Israeli apartheid…"
"It's a clear attack on press freedom and we've heard from CNN, the outlet that freaked out when Trump criticized fake news, absolutely nothing," he noted.
The campaign against RT is an "absolute revelation of the US hypocrisy on the world stage as they lecture the world about the values of liberal democracy when they clamp down on their own critics at home," he said.
Forcing RT to register as a foreign agent is "a product of the Democratic hysteria over Russian involvement in the US elections which they alleged constantly but never offer any proof of, " Michael Patrick Flanagan, former Illinois congressman (R) told RT. He found the request "unusual and irksome" and that tit-for-tat measures from Russia "would seem only fair."
Flanagan said that RT is within its right to bring legal action against the US government, adding that the court will have to find "constitutional balance" between protecting Americans from propaganda and protecting free speech even "if one's free speech might be something that in certain portions it doesn't like."
"Free speech is free speech for a reason," he stressed.
Gina Loudon, anchor and columnist, believes application of the 1938 FARA is missing the mark in RT's case. It was designed to thwart the "solid ideological differences" between the US and Nazi Germany, and in the present day differences on such a level only exist with the likes of ISIS and North Korea, in which cases Russia is actually on America's side, Loudon told RT.
Earlier Monday, RT Editor-in-Chief, Margarita Simonyan, announced the broadcaster had filed for registration as a 'foreign agent' in the US while being threatened with legal action should it not comply. Simonyan said RT would go to court to prove that Washington's demands violate US law. "This demand is discriminative, it runs counter to the principles of democracy and the freedom of speech," she said on November 9.
In September, the Justice Department demanded that a company supplying services to RT America on US soil must register under FARA. Washington threatened to freeze the company's assets if it failed to comply.
The FARA legislation was adopted in 1938 to counter Nazi Germany. Some 400 entities and individuals are currently registered as "foreign agents" under the law. However, only a handful of foreign media outlets operating in the US have been put on the list.
You can share this story on social media: