US anti-ISIS coalition envoy quits amid apparent split in Trump admin over Syria pullout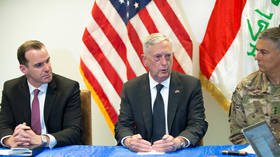 Days after calling the idea of the defeat of Islamic State in Syria "reckless," Brett McGurk, the American envoy to the US-led coalition, has resigned. AP says he did so in protest of Donald Trump's decision to pull out of Syria.
The resignation, which is reportedly effective as of December 31, comes in wake of the high-profile quitting of Defense Secretary Jim Mattis, also highly critical of the Syria pullout. While the idea is not laid out in the open, the general's resignation letter contains hints that he wasn't satisfied with the supposed lack of respect to US' allies, of which he notably mentions NATO and the anti-Islamic State (IS, formerly ISIS) coalition. The 'Mad Dog' Mattis was also left unhappy with the not-tough-enough stance the Trump administration has on China and Russia.
READ MORE: US Defense Secretary Jim Mattis to retire at end of February – Trump
McGurk has been the special presidential envoy to the anti-ISIS coalition since 2015, becoming one of the few Obama appointees to stay in office under Trump. He has openly supported a prolonged and indefinite stay of the US military in Syria. Last week, he stated that "it would be reckless if we were just to say, 'Well, the physical caliphate is defeated, so we can just leave now.'""I think anyone who's looked at a conflict like this would agree with that," he added.
Before Trump's abrupt decision, McGurk was reportedly considering leaving his post in February. The recent developments, however, apparently forced him to do so immediately.
Also on rt.com
Reaction to Trump's Syria withdrawal reveals split between establishment & rest of America (VIDEO)
The news coincided with a fresh tweet from Trump – who previously boasted that "we have defeated ISIS in Syria." He wrote that the terrorist group is "largely" defeated, and that other countries, such as Turkey, "should be able to easily take care of whatever remains."
Addressing the criticism, Trump added that the US troops were originally "going to be there [in Syria] for three months."
While Trump had already voiced his intent to withdraw US troops from the country, the actual announcement has caused an apparent split in his administration. The move was bemoaned by war hungry media and officials, who slammed it as a "gift" to Russia and Iran and an "Obama-like mistake."
Like this story? Share it with a friend!
You can share this story on social media: