John Kelly to leave job as chief of staff by end of year - Trump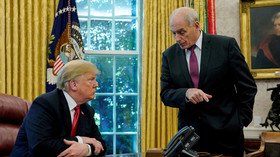 US President Donald Trump has announced that chief of staff John Kelly will leave his post at the end of the year.
It comes after numerous reports of tension between Trump and Kelly, marking an apparent backtrack from the president's initial praise of the chief of staff, calling him a "star" who "respected everybody" when he was appointed.
"John Kelly will be leaving — I don't know if I can say 'retiring,'" Trump told reporters on the South Lawn of the White House. "But he's a great guy. John Kelly will be leaving at the end of the year."
Trump said he will officially announce his pick for Kelly's replacement in the next day or two.
A White House official told Reuters that Trump is in talks with Nick Ayers, Vice President Mike Pence's top aide, about becoming Kelly's replacement. He said that Trump wants Ayers to serve as chief of staff for two years, but the 36-year-old is reportedly unable to make that commitment due to family reasons.
Over the summer, Trump said that he and Kelly were "getting along very well," amid reports that the chief of staff's departure was imminent. "I like John a lot. I like him and I respect him," the president said at the time.
Kelly, a 68-year-old retired Marine Corps general, has joked publicly that working for Trump is the hardest job he's ever had, including those on the battlefield.
The Saturday announcement follows a promised cabinet reshuffle teased by Trump in the days surrounding the midterm elections. It comes just one day after the president announced he would be nominating Bill Barr to replace former Attorney-General Jeff Sessions, who resigned in November at Trump's request.
Even prior to the most recent reshuffle, Trump's cabinet has been compared to a revolving door of sorts. Trump sacked Secretary of State Rex Tillerson in March, and referred to him as being "dumb as a rock" and "lazy as hell" in a Friday tweet.
Also on rt.com
'Dumb as a rock' & 'lazy as hell': Trump destroys Rex Tillerson in tweet praising Pompeo
Trump's comment came after Tillerson called the US president a "challenging individual" who is "pretty undisciplined" and "doesn't like to read."
Former White House Press Secretary Sean Spicer also resigned after just six months in the post, while former reality star Omarosa Manigault was sacked and recorded a conversation with Trump after the fact. The president later called the former 'Apprentice' contestant a "dog" and a "crying lowlife" on Twitter.
Like this story? Share it with a friend!
You can share this story on social media: