Trump nominates Gen. Mark Milley as chairman of Joint Chiefs of Staff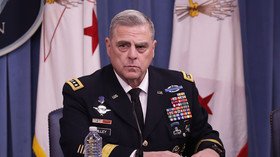 Donald Trump has nominated Mark Milley as chairman of the Joint Chiefs of Staff. The four-star general, who has said the US will "pay the butcher's bill in blood" if it becomes weak, is an advocate for increased military spending.
The date of transition has yet to be determined.
The announcement came months earlier than initially expected, as Dunford still has nearly 10 months left in his term. Past chairmen have typically been nominated in the spring.
Milley's nomination will need to be confirmed by the Senate. If confirmed, he will be the first chairman to serve a single four-year term instead of a two-year term with the possibility of a second - a change which was made in the latest National Defense Authorization Act.
The general became chief of staff of the Army in 2015 after serving at the commander of Army Forces in Fort Bragg, North Carolina. He has served in numerous command and leadership position, including in Iraq and Afghanistan.
Milley has been an advocate for increased spending to upgrade current Army weapons systems and to buy new ones to counter so-called adversaries Russia and China. Speaking in 2015, Milley stressed the importance of a strong military.
If we do not maintain our commitment to remain strong in the air, on the sea and yes, on the ground, then we will pay the butcher's bill in blood, and we will forever lose the precious gift of our freedom.
In 2016, he said the US military's future would involve encountering a "revanchist Russia," an "aggressive China," and a "provocative North Korea and Iran," as well as radical terrorism.
Earlier this year, Milley contradicted the US Defense Department when he said that transgender soldiers did not cause any issues with unit cohesion in the army. The Pentagon report, which the White House referenced in a March 2018 memo, said there were "substantial risks" associated with allowing transgender people to serve in the military.
Although Defense Secretary James Mattis reportedly favored another candidate for the job, Gen. David Goldfein, a former senior defense official told The Washington Post that Mattis recently asked Milley for advice on what to do differently in Afghanistan.
Dunford was nominated to the post in 2015 by former US President Barack Obama. Trump nominated him for a second two-year term last year.
Following the Saturday announcement, many people online slammed Trump's decision to break the news on Twitter.
However, not everyone was upset with Trump's method of delivery.
Like this story? Share it with a friend!
You can share this story on social media: