Hot discussion victim: FIREBALL hits Pakistani news presenter during live debate (VIDEO)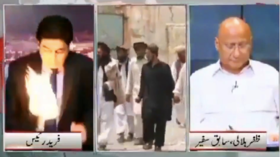 The video of a Pakistani news anchor being struck by a fireball while live on air has gone viral across social media. The unprecedented event sent the anchor flying off his chair.
Astonishing footage posted on Twitter shows the news presenter on the Urdu-speaking channel mediating a debate.
"Do you think it's easy for extremists to cross the border in a group?" he asks the panellists, before a loud popping sound is heard in the background, the Indian Express reports.
The following seconds sees the debate heating up to sweltering levels as a ball of fire plummets into the studio from the top-left corner, landing on the presenter.
While the latter flies off his chair and vanishes from the scene, the panellist carries on answering the question, unaware of the inferno sweeping through the studio.
The video took Twitter by storm, with mind-boggled people flocking to the platform to express astonishment at the stunning incident.
A lot of users found funny puns to make light of the situation as they tweeted:

Other jokingly suggested the anchor had introduced too much of a "burning topic".
While another hailed the "5D effects" pioneered by the Pakistani news channel.
It's the second time in a month that a Pakistan news outlet is thrown under the spotlight for mishaps on air.
Pakistan Television was in fact left red-faced after the Chinese capital of Beijing appeared spelt as 'Begging' in a caption during a live broadcast on November 4.
Coincidentally, that happened at the exact same time Pakistan's Prime Minister Imran Khan was in the Chinese city to seek financial aid for his cash-strapped country.
Like this story? Share it with a friend!
You can share this story on social media: