Pakistani TV spells 'Beijing' as 'Begging' while PM goes to China asking for aid
Published time: 7 Nov, 2018 18:52
Edited time: 8 Nov, 2018 11:23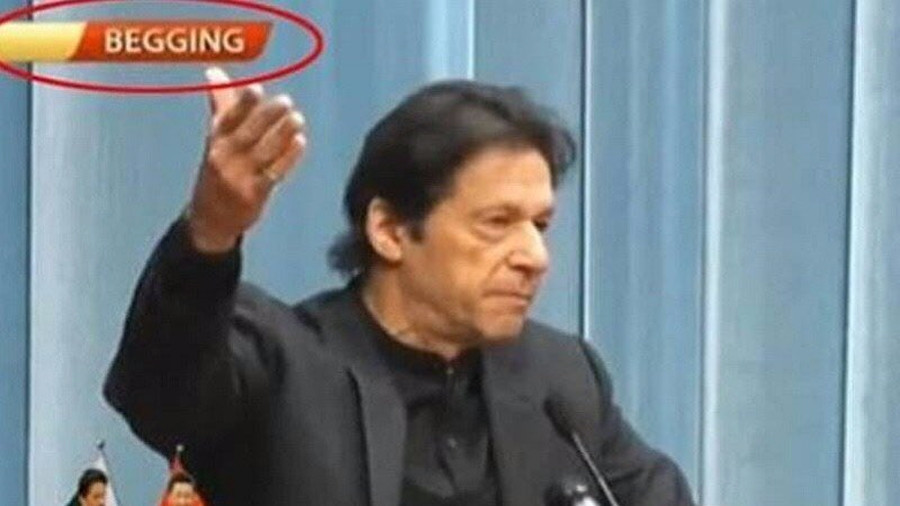 Pakistan's state-run TV news channel was left red-faced after it broadcasted Prime Minister Imran Khan's speech in China but located him in 'Begging'… rather than 'Beijing'. The channel's head has now reportedly been sacked.
The wrong red caption in the top left corner of the broadcast of the PM's address at the Central Party School (of the Communist Party of China) in Beijing made Pakistan Television the subject of widespread derision on Sunday. Ironically, the PM was in the city to seek financial aid for his own cash-strapped country.
Pakistani news channel says PM Imran Khan is Live from 'Begging', instead of Beijing. Now action is being taken against the channel for telling the truth. Only in Pakistan 🥂 https://t.co/cRg0fNSfKd

— Major Gaurav Arya (@majorgauravarya) November 5, 2018
The caption ran for a solid 25 seconds before it was quickly changed, prompting people on social media to ask whether, given the nature of Khan's visit, it had been put up on purpose. It was followed by an apology by the state-run channel for its colossal gaffe, and claims the blunder was a "typographical error."
The managing director of PTV, Hasan Immad Mohammadi, is now understood to have been sacked, Reuters reports, citing official documents by the Ministry of Information it got sight of.
An information ministry spokesman, however, rejected claims Mohammadi, who had only been in the position for a few weeks, had been dismissed because of the botched caption, saying it is instead a "routine affair."
Khan, who has previously voiced opposition at international bailouts, went to China after receiving $6 billion in support from Saudi Arabia.
After previously saying his country was in urgent need of $12bn to rebalance the economy, Finance Minister Asad Umar said on Tuesday "Pakistan's immediate balance of payment crisis is over" thanks to the help received by China and Saudi Arabia. That was just a day before a team from the International Monetary Fund (IMF) arrived in the country's capital of Islamabad for two weeks to discuss Pakistan's request for another bailout. It would be Pakistan's 13th bailout from the IMF since the 1980s.
Like this story? Share it with a friend!