Trump nominates ex-TV host Nauert with limited political experience to be next UN envoy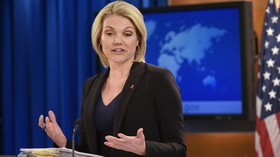 President Trump is nominating State Department spokeswoman Heather Nauert to be US ambassador to the United Nations, filling the spot left vacant by Nikki Haley. Nauert has limited diplomatic experience, but is a former TV star.
Trump announced Nauert's nomination on Friday. Currently a spokeswoman for the Department of State, Nauert will replace Haley when she steps down at the end of the year.
I am pleased to announce that Heather Nauert, Spokeswoman for the United States Department of State, will be nominated to serve as United Nations Ambassador. I want to congratulate Heather, and thank Ambassador Nikki Haley for her great service to our Country!

— Donald J. Trump (@realDonaldTrump) December 7, 2018
Haley's political pedigree is long. Three terms in the South Carolina House of Representatives and a stint as Governor preceded her ambassadorial gig, and Haley was briefly rumored to be making a presidential bid after her departure was announced in October.
Nauert on the other hand comes from a different background. The 48-year-old was a host on Fox & Friends - President Trump's favorite TV show - and made a cameo in Fox's foreign policy drama '24'. In her time at Fox & Friends, Nauert took a pledge of fealty to the Trump brand last year by tweeting that she would buy two pairs of Ivanka Trump brand shoes after Nordstrom's stopped selling the line.
Also on rt.com
'With us, or against us': Nikki Haley's top threats & accusations at UN
Days later, she was hired as acting undersecretary for public diplomacy at the State Department. She is reportedly close friends with Ivanka Trump and husband Jared Kushner.
In her new position, Nauert is likely to double down on her predecessor's hostility to Russia. In the wake of the Skripal poisoning in the UK earlier this year, Nauert referred to Russia as a "beast from the deep sea" with "lots of tentacles." When some AP reporters questioned the government's decision to search the properties of Russian diplomats last year, Nauert questioned their own loyalty. "I don't know if you all are working for RT today or what," she quipped.
Nauert also suggested that the 1944 D-Day landings were an example of the US' "long history with the government of Germany," and that the US' relationship with Turkey was "like a marriage. You have a good day and sometimes you have a bad day."
Now, Nauert is tapped to serve as the US' permanent representative to the UN's 193 member nations.
The pick isn't a surprising one. President Trump said in November that Nauert was under "very serious consideration" for the role, describing her as "a supporter for a long time." Nauert saw off competition from John James, a young black Republican who recently lost a Senate bid in Michigan. Other rumored candidates for the role were former White House Deputy National Security Adviser Dina Powell and current ambassador to Germany Richard Grenell.
So nice, everyone wants Ivanka Trump to be the new United Nations Ambassador. She would be incredible, but I can already hear the chants of Nepotism! We have great people that want the job.

— Donald J. Trump (@realDonaldTrump) October 12, 2018
Trump at one point even suggested his daughter Ivanka as a potential candidate. Describing her as a "dynamite" choice, Trump said he would not nominate her because he would be "accused of nepotism."
As a close friend of Ivanka and ardent supporter of her fashion label, perhaps Nauert was the next best thing.
Subscribe to RT newsletter to get stories the mainstream media won't tell you.