'Russia has lots of tentacles': US says it needed no proof, only UK's word to expel diplomats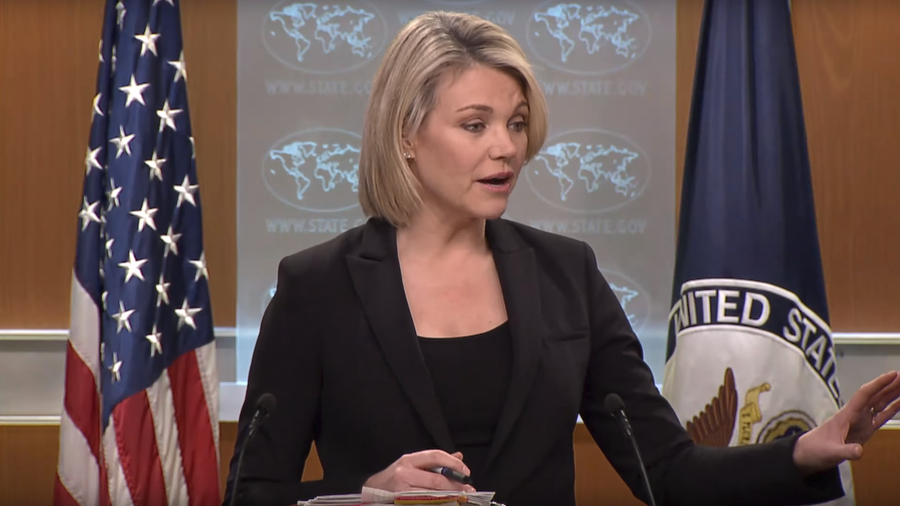 Russia must confess to the Salisbury 'chemical attack' in order to mend relations with the US and NATO, said the US State Department, adding that the only evidence the US needs for Moscow's culpability was the word of its UK ally.
"If Russia wants to improve relations, it needs to first acknowledge its responsibility for this attack and cease its recklessly aggressive behavior," State Department spokeswoman Heather Nauert told reporters on Tuesday.
At one point, the newly promoted acting undersecretary for public diplomacy and public affairs channelled horror writer H.P. Lovecraft to describe Russia as a "beast from the deep sea."
"Russia has long arms, Russia has lots of tentacles," Nauert told reporters.
Her statements came after the US expelled 60 Russian diplomats, including 12 from Moscow's mission to the UN. Nauert insisted those diplomats were really spies, "intelligence officers who were operating under diplomatic cover," without giving any details of their activity.
Although Nauert said the decision was made by President Donald Trump following a "broad interagency process," including the FBI and others, she admitted that the effort was started by the UK, following the alleged chemical attack on former British spy Sergei Skripal in Salisbury earlier this month.
"We certainly know that Russia is responsible for that attack. That is something that is not in question," Nauert declared. Pressed for evidence, however, she said that the US stood by the word of its British allies.
"When the UK tells us they have proof, that they know Russia was responsible, we have every reason to believe them," Nauert said.
On Tuesday, the Russian daily Kommersant published a five-page presentation about the Salisbury incident, which was put together by the UK government. The document, while still containing no evidence of Russia's culpability, has switched from making indications of a high likelihood to making positive assertions that it had to be Russia and no one else.
"We are without doubt that Russia is responsible," the presentation said. "There is no plausible alternative explanation."
UK Government may say it's "highly likely" or "quite clear" that Russia is behind the Salisbury poisoning. But even if they were "absolutely sure", they would have to show facts. pic.twitter.com/OMbc5phmES

— Russian Embassy, UK (@RussianEmbassy) March 27, 2018
Having based its decision to launch the largest expulsion of diplomats since the Cold War on London's word, the US is now treating the expulsion itself as evidence of Russia's supposed perfidy.
Nauert described the willingness of Washington's allies to follow orders as "testimony of how seriously the world takes Russia's ongoing global campaign to undermine international peace and stability, to threaten the sovereignty and security of countries worldwide and to subvert and discredit Western institutions."
Over two dozen US allies, including Canada, Australia, Ukraine and many NATO members, have expelled over 100 Russian diplomats. A number of NATO countries did not follow the lead of Washington and London, however, with Belgium, Bulgaria, Greece, Portugal, Slovenia and Slovakia among the prominent holdovers.
Moscow has promised to retaliate for the expulsions, though no measures have yet been announced as of Tuesday evening.
Like this story? Share it with a friend!
You can share this story on social media: