Ocasio-Cortez v Tesla: Taxpayers have yet to see 'return on their investment'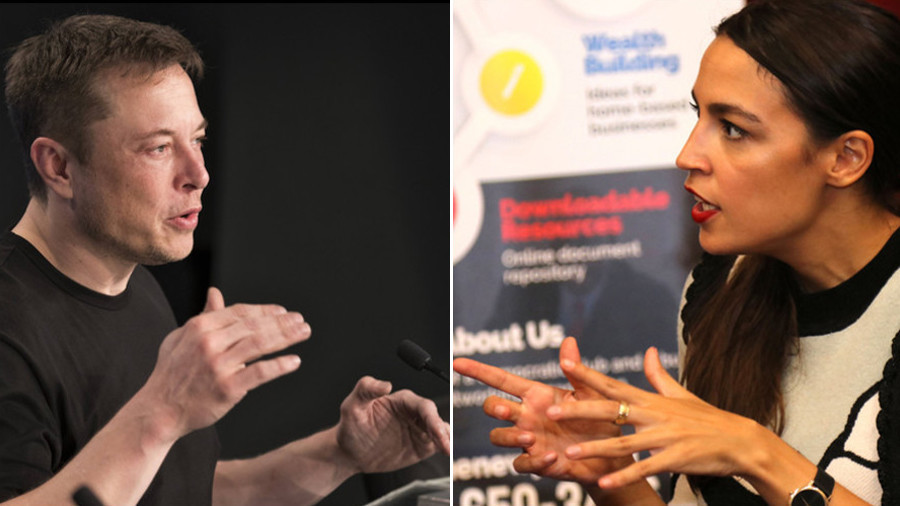 Incoming New York congresswoman Alexandria Ocasio-Cortez is taking aim at that most sacred of American cows, the public-private partnership, criticizing Tesla for accepting government subsidies without giving back to the taxpayer.
"When we as a public choose to invest in new technologies, we deserve a return on that investment," Ocasio-Cortez said during a climate change town hall event on Monday.
"It's about time we get our due because it's the public that funded and financed a lot of innovative technologies," she added.
While Tesla has certainly benefited from government subsidies, racking up $2.4 billion as of 2016, the company does not receive nearly as much from the taxpayer as other automakers like Ford, which received $4 billion during that same time, or GM, which got $5.8 billion.
However, the company has been haunted by several scandals. In October, it was revealed that the FBI had launched a probe into whether the automaker misled investors by stating, and then repeatedly missing, its weekly production goals. The investigation was made public shortly after Elon Musk agreed to step down as Tesla chairman and pay a $20 million fine to the US Securities Commission for writing misleading tweets about taking the company private.
Ocasio-Cortez previously expressed concern about how Tesla was driving the US towards an "automated" economy which could have a devastating impact for workers in the transportation industry.
The rookie congresswoman has become a crusader against corporate handouts, with much of her ire directed at Amazon for its sweetheart deal with New York state.
Look - if all you're doing is "resisting," then all you're doing is reacting.We have a future to prepare for. As jobs get automated, we have to fight for fair policies like Medicare for All to ensure that working people aren't left behind.https://t.co/WC2uxpCBAF

— Alexandria Ocasio-Cortez (@Ocasio2018) December 12, 2017
Governor Andrew Cuomo, so desperate to entice the e-commerce giant that he told reporters he'd change his name to "Amazon Cuomo" if necessary, gave Amazon $1.5 billion in tax breaks to build its new campus in Queens. While her home state fell all over itself to give handouts to a company owned by the richest man in the US, "our subway is crumbling and our communities need more investment, not less," she said.
In a tweet on Tuesday, the Congresswoman mocked the tech giant for reportedly turning to lobbyists to help push back against opposition to the plan.
Amazon is "worried that the [NYC] opposition has become so intense that the deal could be endangered" - so now they're turning to lobbyists.Too bad - in 2018, Queens voters elected a SLATE of officials up & down ballot that reject corporate money.🙂 https://t.co/rcf4XfhGD8

— Alexandria Ocasio-Cortez (@Ocasio2018) December 4, 2018
"Too bad - in 2018, Queens voters elected a SLATE of officials up & down ballot that reject corporate money," Ocasio-Cortez wrote, adding a smiley face emoticon.
Like this story? Share it with a friend!