Trump declares Alaska state of emergency after 7.0 quake damages roads & infrastructure (VIDEOS)
Published time: 1 Dec, 2018 04:24
Edited time: 1 Dec, 2018 11:06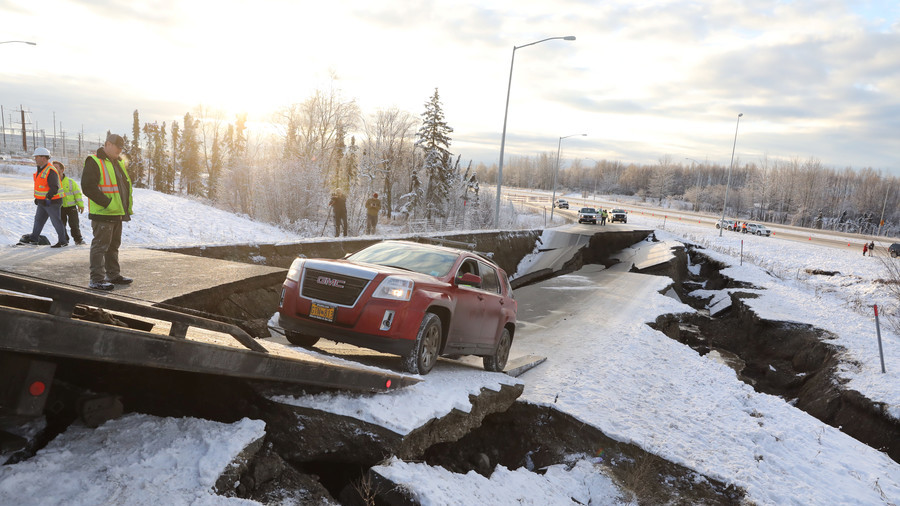 Thousands of people remain without power and it will take weeks to repair all infrastructure wrecked by a huge 7.0 quake, though President Donald Trump has allowed funds for federal agencies to coordinate disaster relief efforts.
The 7.0 magnitude earthquake struck just outside Anchorage, Alaska's largest city, on Friday, prompting Governor Bill Walker to deem it a disaster, after which the US president "declared that an emergency exists in the State of Alaska" and ordered the government to free up federal funding to battle "emergency conditions in the areas affected by an earthquake."
To help the state deal with substantial damage, the president also authorized the Department of Homeland Security and Federal Emergency Management Agency (FEMA) to coordinate "all disaster relief efforts."
While the Alaska earthquake has claimed no lives, officials say, the state has sustained quite substantial infrastructural damage. Cracked and collapsed roads, damaged buildings now plague parts of the state. People were also left without power.
"The impact is very real, the impact is very hard, and it will require apparently a great deal of recovery and effort,"' United States Senator from Alaska Lisa Murkowski said. "There are homes without power. There is some concern that you may have gas line breaks that could lead to potential further disasters."
State authorities believe it could take up to two weeks alone to fix the roads that were damaged by the earthquake. For now, the Alaska Railroad remains shut down until all of the tracks could be inspected. Schools in Anchorage and Mat-Su will remain closed until Wednesday so officials can assess the damage.
Like this story? Share it with a friend!