Trump says he answered questions for Mueller's Russia probe, but hasn't submitted them yet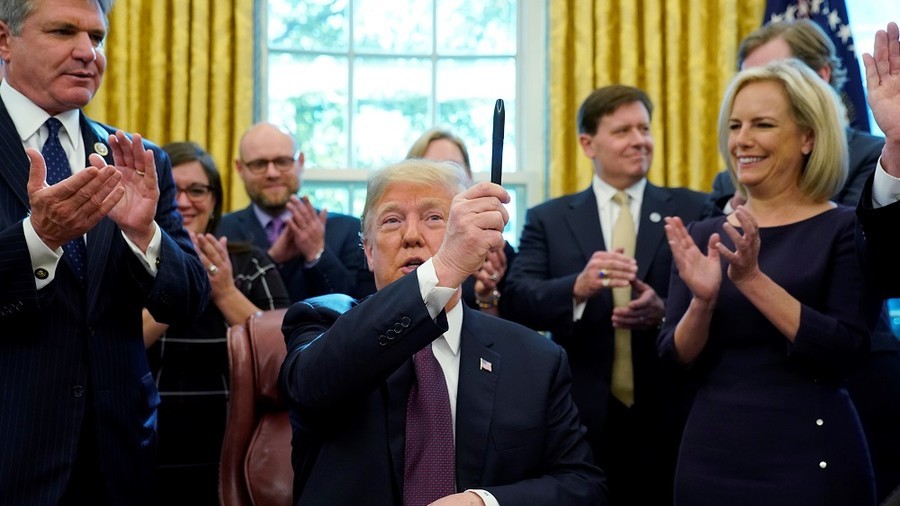 President Trump has said that he has answered questions for Special Counsel Robert Mueller's 'Russiagate' investigation, but has not submitted those answers yet.
"I was asked a series of questions. I've answered them very easily," he told reporters on Friday. "You always have to be careful answering questions with people who probably have bad intentions."
Asked about his comments on Twitter the day before, in which he blasted Mueller and his "gang of Democrat thugs," Trump said nothing in particular had brought that on.
"I'm not agitated," he said. "It's a hoax, the whole thing is a hoax." There should have never been an investigation, he argued, because there had been no wrongdoing by him or his campaign during the 2016 election.
"The witch hunt should've never taken place. I imagine it's ending now," Trump added.
The president confirmed he wrote the answers himself, rather than have lawyers do it, but has not submitted the documents to the special counsel yet.
"As you know, I've been very busy," he quipped, bringing up last week's trip to Europe and several trade deals that were recently negotiated.
Mueller was appointed as special counsel in May 2017, after Trump fired FBI Director James Comey and his critics accused him of obstructing the FBI investigation into claims by Democrats that his campaign colluded with Russia in 2016.
Following the resignation of Attorney General Jeff Sessions on November 7, Trump's critics organized nationwide protests to "save Mueller" after it emerged that the acting AG Matt Whitaker had made comments critical of the investigation while working as a CNN contributor back in 2017.
Like this story? Share it with a friend!
You can share this story on social media: