Mueller again? Trump bashes 'disgraceful' Russia probe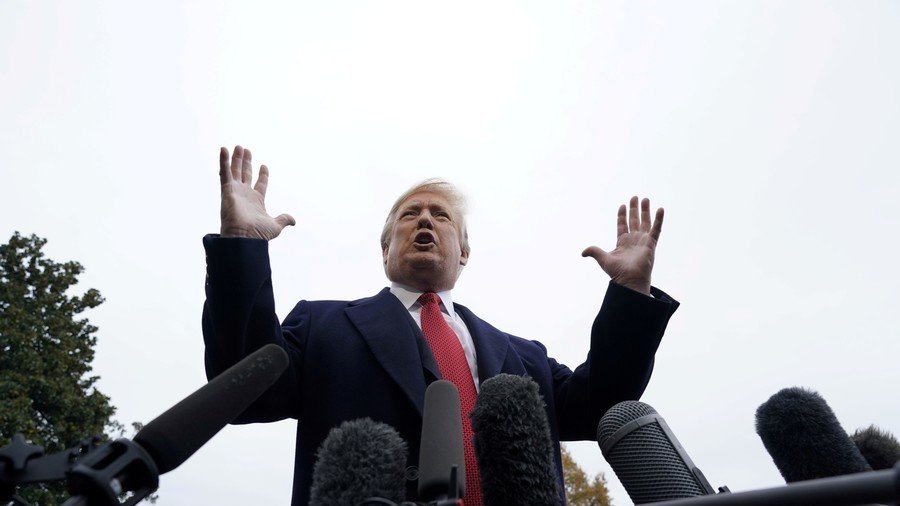 As midterm-bolstered Democrats double down on special counsel Robert Mueller's probe into alleged 2016 'Russian collusion', President Donald Trump is lashing out, calling the probe a "disgrace" and "total witch hunt."
Last week's midterm results mean Democrats will take control of the House of Representatives in January, and the party has already said it will use a "subpoena cannon" to target Trump and everyone around him. Trump fired back by denouncing the Mueller probe once again.
"The inner workings of the Mueller investigation are a total mess. They have found no collusion and have gone absolutely nuts," Trump tweeted on Thursday morning.
"They are a disgrace to our Nation and don't care how many lives the[y] ruin," he added, calling it a "TOTAL WITCH HUNT LIKE NO OTHER IN AMERICAN HISTORY!"
Trump also argued that Mueller and his "gang of Democrat thugs" have destroyed the lives of his supporters while protecting Hillary Clinton, former FBI Director James Comey, and former FBI employees Lisa Page and Peter Strzok – who had an extramarital affair while working on the Clinton email probe and the original Trump-Russia investigation in 2016, exchanging text messages about how much they despised Trump and his supporters.
Clinton's claims that Trump "colluded" with Russia were first floated midway through the 2016 campaign, but took off into the stratosphere after she lost the election her campaign and the media were convinced she would win. Deputy Attorney General Rod Rosenstein – since then-AG Jeff Sessions had recused himself from the Russia probe – appointed Mueller in May 2017, after Trump fired Comey on Rosenstein's own recommendation.
While Mueller's probe has gone after anyone related to the Trump campaign, from former manager Paul Manafort and General Michael Flynn to volunteer adviser George Papadopoulos, he has provided precisely no evidence of any collusion with the Russians. Yet Trump's critics are hoping that sooner or later he will discover something that would bring down the president they hate.
On Wednesday, the Senate refused to allow an expedited vote on legislation aimed at protecting Mueller's investigation from the White House. Outgoing Senator Jeff Flake (R-Arizona) is now threatening to block all of Trump's judicial nominations unless there is a vote on the matter. Democrats also organized protests around the country demanding Congress "protect Mueller" after Trump fired Sessions on November 7.
The last time Mueller's investigation made headlines was August, when Manafort was convicted on several counts related to his lobbying work in the Ukraine. It was virtually absent from the media during the frantic midterms coverage, prompting speculation that it was either winding down or about to unveil a series of game-changing indictments. So far, it has done neither.
Think your friends would be interested? Share this story!
You can share this story on social media: