Blame Russia? Trump jokes over Florida & Georgia vote shenanigans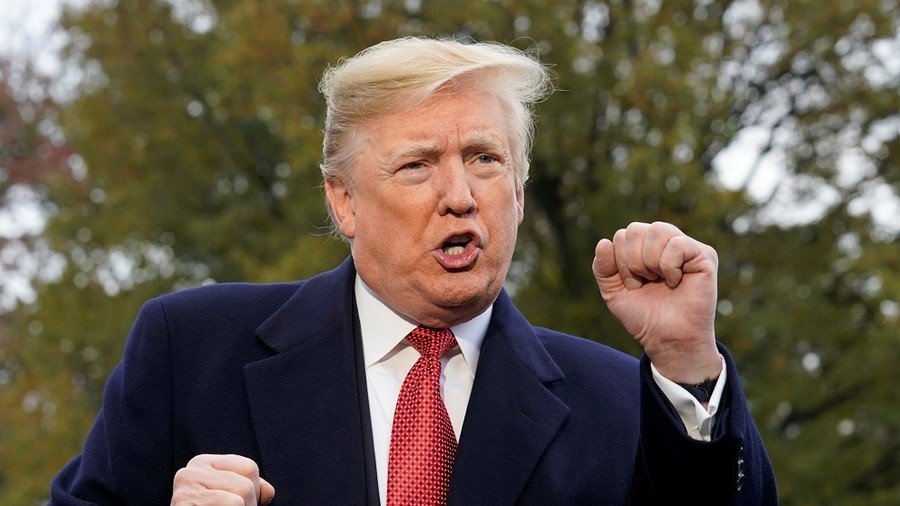 As election officials in Florida and Georgia claim to have found more ballots and seek recounts in races narrowly won by Republicans, President Donald Trump is joking Russia might be behind it – and claiming fraud.
"You mean they are just now finding votes in Florida and Georgia – but the Election was on Tuesday? Let's blame the Russians and demand an immediate apology from President Putin!" Trump tweeted on Friday morning, referring to the midterms in which candidates he backed narrowly prevailed in one Senate and two gubernatorial races.
You mean they are just now finding votes in Florida and Georgia – but the Election was on Tuesday? Let's blame the Russians and demand an immediate apology from President Putin!

— Donald J. Trump (@realDonaldTrump) November 9, 2018
Democrats are demanding a recount in all three, however. The party has dispatched its top lawyer to Florida's Broward County, where local officials insist they are still counting Tuesday's ballots, and refuse to say how many remain to be counted.
Trump called Marc Elias the Democrats' "best Election stealing lawyer" and said he was sending "much better lawyers to expose the fraud." The situation was an "embarrassment" to the country and democracy, he added in another tweet.
Republican protesters gathered outside the county offices on Friday, demanding the officials obey the law, giving them 48 hours to certify the election and "stop the steal."
Almost all the newfound ballots in Broward have apparently favored Democrat candidates, incumbent Senator Bill Nelson or gubernatorial candidate Andrew Gillum.
The other Florida senator, Marco Rubio, has been tweeting up a storm since Thursday, accusing Broward County election supervisor Brenda Snipes of personal animus towards Governor Rick Scott (who defeated Nelson in the Senate race, according to the early results that are now being questioned).
Earlier this year, a Florida judge ruled that Snipes had violated state and federal laws by destroying ballots from the 2016 election while they were subject to a lawsuit against her office. Even though Tim Canova, a Democrat primary challenger to Congresswoman Debbie Wasserman Schultz – a former DNC chair – sued for access to the ballots, Snipes ordered them to be destroyed.
Not very comforting to #Florida voters that #BrowardCounty supervisor,in whose hands may rest outcome of Senate & cabinet race has in the past: 1. Illegally destroyed ballots2. Secretly opened mail ballots3. Sent voters too many ballot pages4. Left const question off ballot

— Marco Rubio (@marcorubio) November 9, 2018
Meanwhile, in Georgia, Democrat Stacey Abrams is refusing to concede the gubernatorial election to Republican Brian Kemp, saying there are still absentee and provisional ballots outstanding. Prior to the election, her campaign had accused Kemp of voter suppression, claiming that as Georgia secretary of state he purged and refused to certify tens of thousands of registrations, mainly of minorities.
"He owes the people of Georgia an explanation," Abrams said.
READ MORE: Broken voting machines, four-hour long lines? Claims of voter suppression mar Georgia governor race
At a press conference on Thursday, Kemp said that even if Abrams received every single one of the outstanding votes, he would still be ahead.
Trump sided with Kemp, saying he ran a "great race" in Georgia and won. "It's time to move on!" the president tweeted.
As for the whole "let's blame the Russians" thing, it was probably a joke. Until the State Department feels like imposing more sanctions, anyway.
Like this story? Share it with a friend!
You can share this story on social media: