Broken voting machines, four-hour long lines? Claims of voter suppression mar Georgia governor race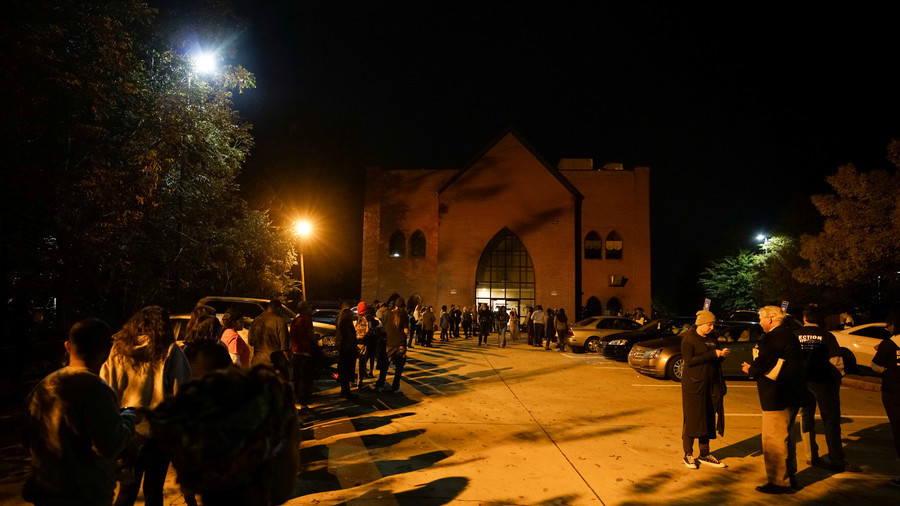 Democratic candidate for governor in Georgia, Stacey Abrams, has refused to concede the race to her Republican opponent Brian Kemp after widespread allegations of voter suppression put a question mark over the results.
Kemp currently holds a small lead over Abrams, but voters in majority black neighborhoods have made numerous complaints about mysteriously broken voting machines, missing power cables and extremely long delays at polling stations, in what many see as an attempt to suppress those likely to vote for Abrams, who is vying to become the first-ever black female governor.
Abrams' campaign claimed there had been an "incredible amount of irregularities" recorded on voting day and said it would wait for the thousands of absentee ballots and mail ballots which have yet to be counted. Things became so hectic at polling stations that a judge decided to order a number of them stay open later than usual. More than 3.9 million people cast their votes on Tuesday, almost 95 percent of Georgia's 2016 presidential turnout, an outstanding result for midterms.
You know Stacey Abrams? The Georgia gov. candidate who could become the 1st black woman governor? Well, right now she's losing by 75K votes but her opponent knocked 340,000 off the voter roles!If you want legit elections, spread the word! https://t.co/GOHQnPo7eB

— Lee Camp [Redacted] (@LeeCamp) November 7, 2018
With 100 percent of precincts having reported their results, the Associated Press put Kemp at 50.3 percent. If he falls below the 50 percent mark, that would trigger an automatic runoff election between the two in December.
READ MORE: '2 can play that game': Trump threatens Senate probes into Dems, as House investigations loom
The Abrams campaign claims that "only a portion" of votes submitted by early mail in three large counties have been reported and that no mail votes at all have been reported from others which lean Democratic. They claims that 77,000 ballots still need to be accounted for.
Current margin for Kemp over Abrams in Georgia: 75,000.Number of (mostly African American) votes purged or challenged BY Kemp in Georgia: 700,000.How is this democracy?

— Mikel Jollett (@Mikel_Jollett) November 7, 2018
The accusations of voter suppression have been given added weight since Kemp's office — he is currently Secretary of State in Georgia — is responsible for monitoring elections, including this one. It's a situation which many, including former president Jimmy Carter, have criticized as unfair.
Citing financial issues, Kemp's office closed 214 polling precincts across the state since 2012, mostly in minority and poor areas, in a move that was seen by voting rights activists as an effort to suppress the black vote. His office also oversaw purges of hundreds of thousands of voters from voting rolls, prompting various lawsuits.
A couple of weeks before voting day, Kemp was also heard in a leaked recording saying that Abrams ability to turn people out to vote "continues to concern us, especially if everybody uses and exercises their right to vote."
Kemp's campaign has adamantly denied the allegation that Kemp has attempted to suppress any votes, and even fired back with some accusations of their own. Two days before the election, Kemp's office accused Georgia's Democratic Party of attempting to hack the state's voter registration system.
Abrams and the party dismissed this as a stunt and "yet another example of abuse of power" by Kemp.
Her campaign has estimated that she needs a net gain of 15,000 votes to put Kemp below the 50 percent mark and force a runoff election.
Like this story? Share it with a friend!