Migrants who throw rocks will be arrested, not shot – Trump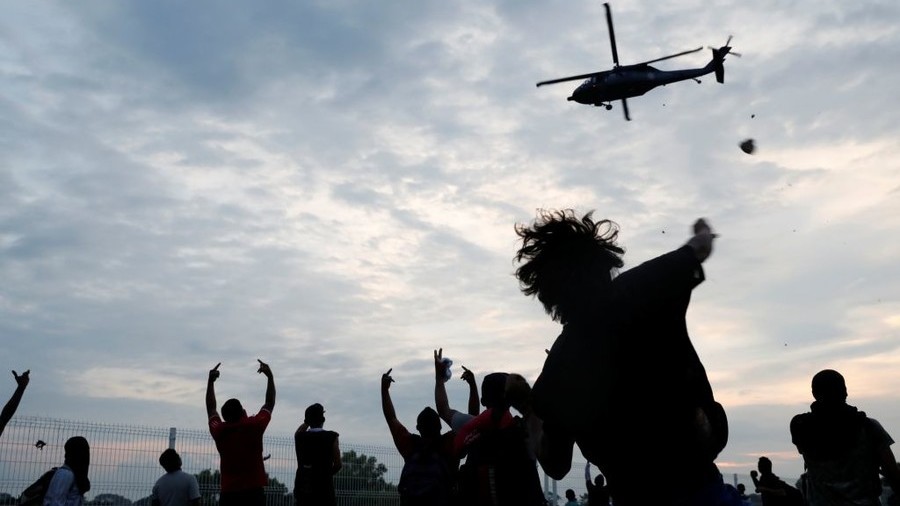 Walking back his previous comments, US President Donald Trump said that illegal migrants who attack the US military with rocks will not be fired upon, but will be detained.
Trump told reporters on Friday that all of his border enforcement actions are in compliance with existing US laws. He has vowed not to allow the caravans of migrants from El Salvador and Honduras, currently making their way north through Mexico, from entering the US.
Any asylum-seekers who cross the border illegally will be deported, and those who cross at points of entry will be held in tent cities with their families while they await adjudication, rather than be released into the US, Trump said on Thursday at the White House.
In the same speech, he said the troops on the border – which currently number 5,200 – would have instructions to open fire if migrants threw rocks at them, as they had at the Mexican authorities. This caused widespread condemnation in the media and among Democrats, with even some military veterans claiming this would violate the current rules of engagement.
"I just don't want these people throwing rocks," Trump said on Friday. "They do that with us, they're going to be arrested. I didn't say shoot," he added.
"If our soldiers – or ICE or Border Patrol – are going to be hit in the face with rocks, we're going to arrest those people quickly and for a very long time. That does not mean shoot them."
Trump insisted all his actions were within the current legal framework, but criticized it as a "stupid system [that] doesn't work."
Asked if he would promise the military will not fire on the migrants, Trump responded with, "I hope they won't, we're going to see."
My full report on this viral video of migrants hurling rocks at a Mexican police helicopters on the Mexican-Guatemalan border:- Video is authentic- They are also armed with guns & Molotov cocktails- They are injuring police- They're headed to UShttps://t.co/2ScTK0sMWBpic.twitter.com/pzvYvpDhHD

— Benny (@bennyjohnson) November 2, 2018
"We're not going to stand for what they did to the Mexican military and the Mexican police," he added, again referring to the rock-throwing incident. "Not going to happen to our soldiers."
"The border is closed to these people. They're not coming in," was his final message to the migrant caravan.
Like this story? Share it with a friend!
You can share this story on social media: