'We'll consider that a firearm': Trump says rock-throwing migrants may be shot as violent invaders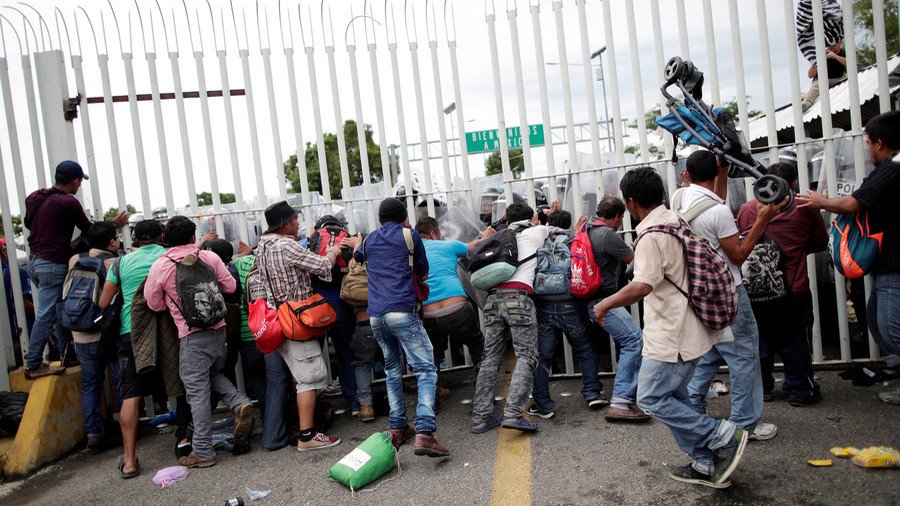 The US will adopt harsh, Israeli-style tactics and will treat migrants at the Mexican border as armed and dangerous invaders if they throw rocks at US law enforcement, Donald Trump has stressed amid a mass military deployment.
While the US commander in chief "hopes" the US military will not have to engage the so-called 'migrant caravans' with firearms once they reach the US border, Trump stated that pelting the American forces with rocks will not be tolerated.
Anybody throwing stones, rocks, like they did to Mexico... we will consider that a firearm
"It's the military. I hope there won't be that. But I will tell you this: Anybody throwing stones, rocks, like they did to Mexico and the Mexican military, Mexican police – where they badly hurt police and soldiers of Mexico – we will consider that a firearm, because there is not much difference if you get hit in the face with a rock," Trump said to reporters.
Calling the caravans –at present making their way towards the US– an "invasion" that has already managed to overrun the Mexican military and police forces, Trump stressed that the US military is fully prepared to deal with criminals and other "tough people" in that crowd.
"These illegal caravans will not be allowed into the United States. And they should turn back now, as they are wasting their time," he suggested, noting that many criminals and drug dealers are hiding in the crowd.
So this is not an innocent group of people. They've injured, they've attacked.
The US leader also blamed the Democrats for creating a legal system which is being abused by those coming illegally to the United States, stressing that only those who qualify for asylum and go through the legal process will be allowed to stay. As part of the effort to secure the border, Trump said that the US is going to "catch" but "no longer release" migrants.
"Asylum is a very special protection intended for only those fleeing government persecution based on race, religion, and another protective status," he said, pointing out that not everybody making their strenuous journey to the US will qualify. "Mass uncontrolled immigration is especially unfair to many wonderful, law-abiding immigrants already here."
As part of the dramatically-named Operation Faithful Patriot, over 5,000 fully armed soldiers are currently being deployed to help some 2,000 National Guardsmen secure the 26 entry points along the 2,000-mile land border with Mexico. Trump and the Pentagon said they will not hesitate to deploy more troops if the need arises.
While General Terrence O'Shaughnessy of US Northern Command earlier noted that soldiers will "understand the rules" of interaction with migrants, which will "be consistent with CBP" rules of engagement, he failed to say whether troops will be allowed to use deadly force. Trump seemed to shed a little bit more light on the leeway American soldiers will have against the caravans, which currently comprise roughly 6,500 people, heading towards the US.
The American approach seems to mimic the Israeli tactics used by the IDF to repel Palestinian protesters at the border, denouncing them as armed and dangerous Hamas operatives. Ever since the Great March of Return protests erupted on March 30 along the Israeli-Gazan border fence, the IDF has not been shy to use live ammunition and sniper fire to strike Palestinians pelting rocks and trying to breach Israeli border fences.
Subscribe to RT newsletter to get stories the mainstream media won't tell you.
You can share this story on social media: