Migrants, militias, protesters & drug cartels: Pentagon braces for explosive clash at Mexico border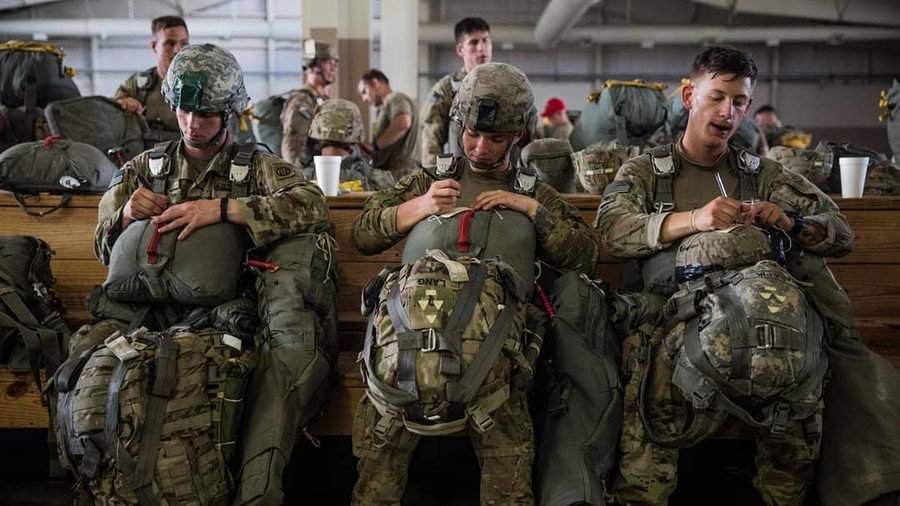 US troops being deployed to fend off incoming migrant caravans will also have to deal with armed vigilantes, potentially violent protesters and drug cartel members who might all simultaneously converge at the Mexican border.
How many migrants will reach the US border in the first wave remains unknown but, by the time the first two groups finish their 1,000 miles long journey, more than 7,000 US soldiers and National Guardsmen will be awaiting their arrival. However, besides blocking any illegal entries from Mexico, the protectors of the US frontier are being warned by the Pentagon to anticipate other challenges to their deployment, the Military Times has learned.
"The security of the United States is imperiled by a drastic surge of illegal drugs, dangerous gang activity and extensive illegal immigration threatens the safety of citizens and undermines the rule of law," the operations order given to soldiers states, according to the publication.
The planning documents for the Operation Faithful Patriot reportedly caution the soldiers against some "200 unregulated armed militia members" who might incite violence at the border and may even attempt to steal their equipment. Operating under the "guise of citizen patrols" and pretending to be supporting border agents, vigilantes, the document says, were already noticed stealing from the National Guard.
Tackling migrant solidarity protests and counter-protests, if they turn violent, will become yet another challenge for the soldiers. "Previous protests in support of immigration caravans or enforcement of immigration law have occurred throughout the US. Normally peaceful unless extreme right or left groups attend," the operations order for the mission allegedly states.
Currently, over 5,200 soldiers are heading to Texas, Arizona, and California to secure the border before two migrant caravans, currently comprising roughly 6,500 people, reach the US. While the caravans are mostly composed of family members and unaccompanied minors, criminals and drug traffickers, Donald Trump fears, could mingle in the crowd.
The head of Northern Command, Gen. Terrence J. O'Shaughnessy noted Tuesday that the US authorities are still trying to "understand the true nature" of the caravans, noting the "higher level" of organization of the march from what the US has witnessed in the past.
It appears that the US president is willing to allocate unlimited resources to stopping the migrants piercing the US border, pointing out on Wednesday that up to 15,000 military personnel could be sent to the southern frontier. While 5,239 troops have so far been ordered to deploy under Operation Faithful Patriot, General O'Shaughnessy clearly stated that that number "is not the top line."
Think your friends would be interested? Share this story!
You can share this story on social media: