Up to 15,000 troops may go to border for caravan - Trump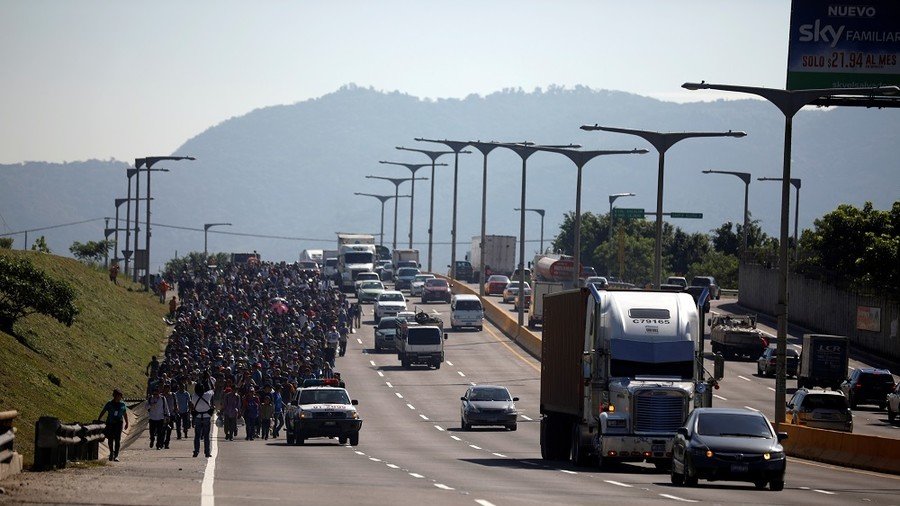 President Donald Trump says he may send up to 15,000 troops to border with Mexico where thousands of people are heading in a caravan seeking entry to US. This is more than double the number voiced previously by the Pentagon.
"We may go up to anywhere between 10,000 and 15,000 military personnel," in addition to the existing border patrol staff, Trump told reporters outside the White House on Wednesday. By comparison, the US currently has approximately 14,000 troops in Afghanistan.
"Nobody's coming in," Trump said, adding that his administration will not allow in any immigrants who "don't have the well-being of our country in mind." He pointed to the violent incidents where members of both migrant caravans clashed with Mexican border guards and police, breaking through border fences.
The US president also underscored that anyone who does cross the US border will be detained in "tent cities" and other immigration detention facilities, as "we're not doing releases" anymore.
READ MORE: Birthright citizenship not covered by US constitution, 'will be ended one way or the other' – Trump
Trump has often blasted the policy dubbed "catch and release," where the authorities would release migrants who crossed the border illegally on a promise they would show up in court, partly due to a legal settlement preventing the government from separating families. He argued these policies have resulted in "25 to 30 million people" in the US illegally.
"I want people to come into our country, but they have to come legally and have to come through merit," Trump said, stressing he is not against all immigration.
Like this story? Share it with a friend!
You can share this story on social media: