WikiLeaks Assange's lawsuit over asylum conditions denied by Ecuador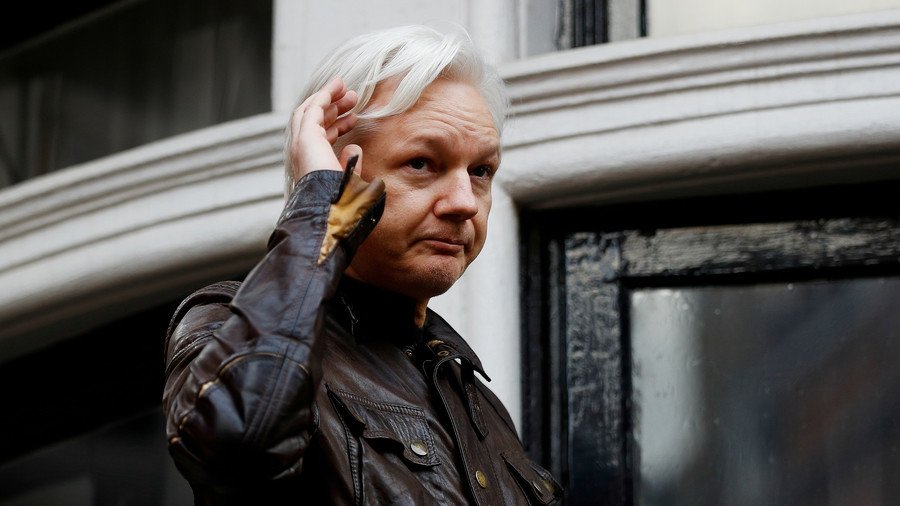 An Ecuadorian judge has thrown out the lawsuit by Julian Assange, who objected to the harshly revised terms of his asylum. The WikiLeaks co-founder has been trapped at the Embassy of Ecuador in London since 2012.
The judge made the decision following a lengthy hearing held by teleconference. Ecuador will maintain Assange's asylum as long as he wants to keep it, but he must follow the rules laid out for him by the government, an unnamed government official told Reuters on Monday.
The new rules, which were leaked earlier this month by an opposition politician, involve a list of restrictions Assange has argued violate his "fundamental rights and freedoms" as well as Ecuadorian and international law. Among them are restrictions on discussing politics and receiving visitors, and demands of Assange to pay for his own food, medical care, laundry and related expenses of living at the embassy starting December 1.
Ecuador has also threatened to seize Assange's pet cat if he did not care for it properly, according to the leaked regulations.
In the teleconference Monday, Assange accused Ecuador of using him as a "bargaining chip" in talks with the US and UK governments, and submitting to pressure from Washington and London. Ecuadorian Attorney General Inigo Salvador Crespo responded by calling those statements "malicious and perverse," according to the newspaper El Comercio.
The new regulations and special protocols governing Assange's visitations were put together for the purpose of making Assange's continued stay at the embassy "harmonious," Crespo argued.
"It is a public building that was not intended for housing, so there must be regulation," he told the judge.
The WikiLeaks founder and longtime chief editor sought asylum in Ecuador in 2012, fearing that the UK would have him extradited to the US over the whistleblower website's publication of classified US diplomatic cables and military documents about the wars in Iraq and Afghanistan. Ecuador does not have an extradition treaty with the US. However, the British authorities have prevented Assange from leaving the embassy ever since.
His position became precarious following the election of President Lenin Moreno in 2017. Though Moreno served as vice-president to Rafael Correa, who granted Assange asylum, he came under strong pressure from the US to revisit the journalist's status.
Assange was granted Ecuadorian citizenship in December 2017, and there was even talk of him getting a diplomatic passport. Instead, in March the embassy cut off his phone and internet access and banned all visitation, citing Assange's statements in support of the pro-independence movement in the Spanish region of Catalonia.
"The Ecuadorian state has to protect Assange's rights, he is not just an asylum [seeker]; he is a citizen," Correa told RT in a recent interview, adding that he thought that the current government had "absolutely submitted" to Washington's dictates.
- First they came for Assange- Then they came for independent media- Then they silenced antiwar activists- Then they shut down competing companies offering unfiltered channels of communicationWho will be next and when will everyone start to appreciate the threat?

— William Craddick (@williamcraddick) October 29, 2018
"They try to humiliate Assange but only humiliate themselves," Correa told RT. "These rules really go against the human rights. They are trying to isolate Assange and to push him to abandon our embassy."
Assange's internet access and visitation rights have yet to be restored, despite promises from Quito to do so, according to his attorney Baltasar Garzon.
Like this story? Share it with a friend!
You can share this story on social media: