Top US officials tell Yemen's Houthis to stop fighting, but why trust hawks-turned-peacemakers?
Published time: 31 Oct, 2018 00:35
Edited time: 22 Nov, 2018 11:17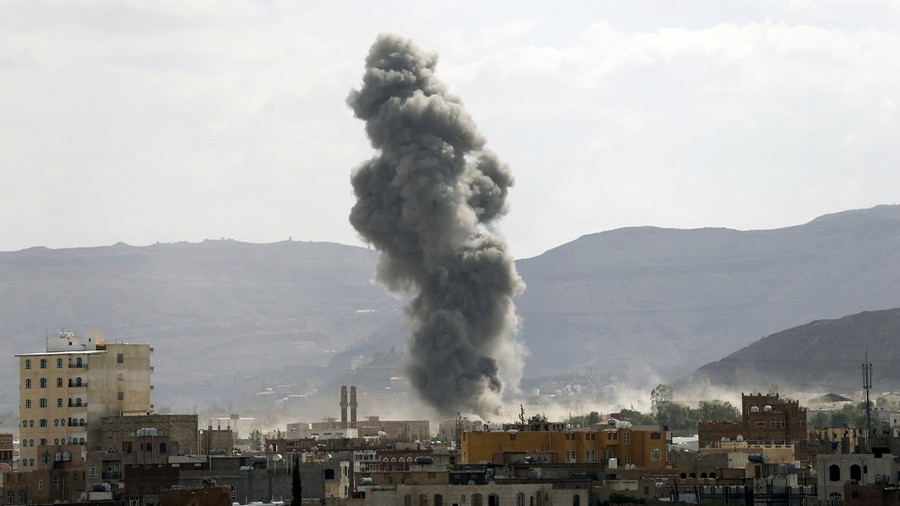 Two senior US officials have publicly called for a ceasefire in Yemen. But apparently US allies are not expected to be the first to stop the violence, even if Washington has the clout to make them.
Hours apart, US Secretary of State Mike Pompeo and Pentagon chief Jim Mattis rolled out statements supporting a UN-sponsored ceasefire in Yemen. The country is currently devastated and on the brink of famine as the US-backed coalition of Arab nations, led by Saudi Arabia, fight a war with Houthi rebels.
"The time is now for the cessation of hostilities, including missile and UAV strikes from Houthi-controlled areas into the Kingdom of Saudi Arabia and the United Arab Emirates," Pompeo said. "Subsequently, Coalition air strikes must cease in all populated areas in Yemen."
A similar sentiment was voiced by Mattis, who was addressing a forum in Washington. He called on all sides to take meaningful steps toward a ceasefire and negotiations in the next 30 days. "We've got to move toward a peace effort here. And we can't say we're going to do it sometime in the future," the defense secretary said.
Yemen, the poorest nation on the Arabian Peninsula, suffered from various domestic conflicts for decades. The Ansar Allah group, colloquially called the Houthis after its late leader, emerged to prominence in the 1990s and became a thorn in the back of then-president Ali Abdullah Saleh. Saleh's grip on power was weakened during the Arab Spring, which allowed the Houthis to increase influence and eventually oust his successor, Abdrabbuh Mansur Hadi. Hadi fled and asked for Riyadh's help to get back into power. So, in March 2015 the Saudi-led coalition started its military intervention, with the US providing aerial fueling, targeting intelligence and weapons to its allies.
More than three years of hostilities took a significant toll on Yemen, with both the Houthis and the coalition accused of committing various crimes. The Saudi airstrikes were responsible for a large share of civilian deaths, targeting marketplaces, funeral processions and weddings, in areas where the population supported the Houthis. The coalition also imposed a strict naval and aerial blockade of Yemen, causing shortages of essential supplies like food, medicines and fuel.
'Not satisfied' after all: Trump wants more answers, but won't scrap Saudi deals over Khashoggi case
Half of Yemen's population relies on aid to survive while some 14 million people are estimated by the UN to be at risk of starvation. The country also suffers from rampant diseases like cholera – a testament to the damage inflicted on hospitals, water treatment facilities and other crucial civilian infrastructure, by the coalition bombings.
US support of the coalition remained unwavering even as the death toll and evidence of the continued failure to protect civilians mounted. Under both Barack Obama and Donald Trump, Washington maintained that Riyadh was investigating attacks on civilians and would take steps to prevent similar incidents in the future.
The record of the US supporting the Saudis, no matter what, undermines whatever peace promotion they may try to engage now in Yemen, Chris Nineham from the Stop the War Coalition told RT. "There is absolutely zero reason why the Houthis should have confidence in those statements, given how hawkish the Americans were," he said.
The statements from US officials have little to do with stopping the violence in Yemen, Colin Cavell, associate professor of political science at Bluefield State College, told RT. "If they really wanted to end this conflict, they could just cut off sending weapons to Saudi Arabia, quit refueling their planes that are bombing Yemen, and call off the blockade," he said. "They could cut off it tomorrow, if they wanted to."
Cavell believes that calls for a ceasefire are simply part of the Trump administration's attempt to distance themselves from Saudi Arabia's Crown Prince Mohammed bin Salman (MBS), who is widely regarded as the architect of the Yemeni intervention. The Saudi de facto ruler is currently under fire over the murder of his critic in a Saudi consulate in Istanbul, which became a relatively hot political issue in the US – so much that some American lawmakers called for imposing personal sanctions against him.
"This is part of the November 6 midterm election," Cavell said, adding that the Trump administration may have actually decided that convincing the Saudi royal family to replace MBS as the heir apparent to the throne with a less compromised figure is the way forward.
Like this story? Share it with a friend!