'US & UK throw money at Yemen's humanitarian disaster while profiting from war'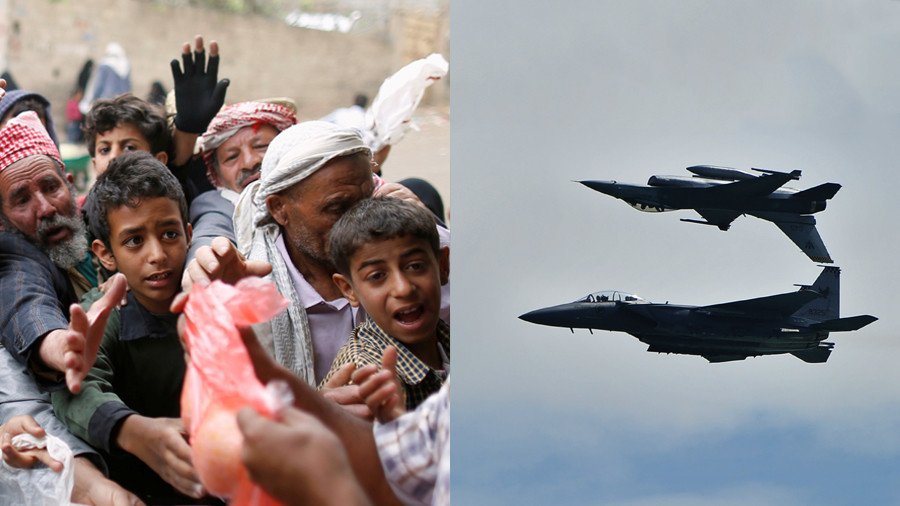 Yemen's humanitarian disaster is worsening, with 12 to 13 million people at risk of dying from starvation. Yet major Western countries are continuing to make a profit from arms sales to the Saudis, an aid worker told RT.
According to UN's World Food Organization, the number of Yemenis living on the brink of famine may rise from around 8.5 million to 12 to 13 million within months. The Arabian Peninsula's poorest nation imported over 90 percent of its food even before the war and the conflict, which includes a naval blockade by the coalition, has affected supply of essentials.
War has pushed #Yemen to the brink. 18 million people, do not know where their next meal is coming from – 8 million of them at risk of dying from lack of food.Only peace will save Yemeni children.

— World Food Programme (@WFP) October 15, 2018
Millions of Yemenis rely on aid organizations to feed their families. Suze van Meegen from the Norwegian Refugee Council told RT major sponsors of aid programs are the same parties who fail to act to deescalate the violence in Yemen.
"We are seeing huge amount of duplicity from powerful countries. Countries like the UK and the US consistently throwing money at the problem of humanitarian crisis in Yemen, helping us reach people with food and water. Meanwhile they are profiting from the sale of weapons that are perpetuating the war," she said.
Washington and London are key suppliers of arms to Saudi Arabia and its allies, who've been waging an air campaign in Yemen for over three years. The bombardment has repeatedly resulted in civilian casualties, though the Saudi-led coalition denied it targeted civilians on purpose.
The US is also providing air refueling and targeting assistance to the coalition's controversial campaign. Just last Saturday the coalition reportedly killed at least 17 people and injured 20 others when an airstrike hit a bus full of civilians in the Hodeida, a Houthi rebel-held city. The coalition forces, as they usually do, pledged to investigate the incident, but would not take responsibility for the deaths.
Lucrative arms sales are reportedly the reason why such incidents are dismissed by Western nations as simple mistakes and the coalition gets away with a slap on the wrist each time. Van Meegen said enablers of the intervention should decide what their values are.
"Our question to those powers is: are jobs in the US and the UK more valuable than lives in Yemen?" she said.
The humanitarian situation in Yemen is dire and will only get worse, unless the conflict is stopped. It has already scarred the entire nation to a great deal, van Meegen said.
"People can't get enough food to eat each day. Parents don't know when they send their children to school, whether they'll come home or whether the bombs will hit the school. There is very little water, so people are scared of cholera," she said. "The society entirely is marked by fear and deprivation.
"I met children with open wounds on their legs that they cannot afford to treat. People's hair is falling out because they cannot access enough food. The situation in Yemen is really about as bad as it gets."
Van Meegen stressed that the humanitarian crisis is "entirely man-made and could be avoided" if the allies of the Saudis chose to take serious action.
Think your friends would be interested? Share this story!
You can share this story on social media: