'Lock him up!' Smiling Trump joins chant against Soros (VIDEO)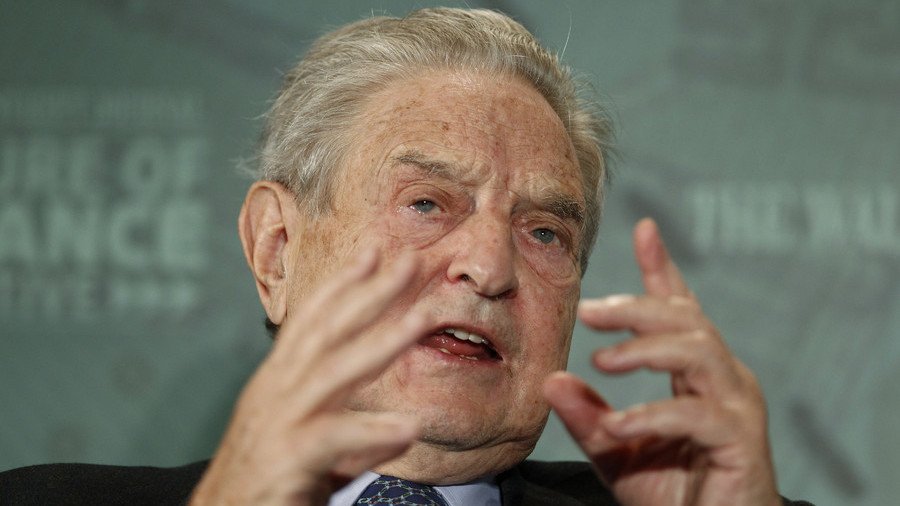 US President Donald Trump seems to agree with calls to imprison George Soros, as he laughed and joined in the "Lock him up" chant by a crowd of young black supporters targeting the billionaire liberal.
Trump encountered a passionate audience as he addressed the Young Black Leadership Summit at the White House on Thursday. His speech was constantly interrupted by applause, cheers and chants.
READ MORE: Trump on 'mail bomber': Bring them to swift justice, we can't allow political violence in America
The president was talking about the trade wars he's been waging around the world and blamed the globalists of "cheating our [American] workers." This is when some in the crowd started calling out "Soros" – the man routinely described as a "champion" of globalism.
Trump tried to continue his address, but was interrupted by chants "Lock him up," directed at the billionaire. The US president then chuckled and repeated the chant himself, saying "Lock him up" and pointing the finger at the part of the audience from where the idea originated.
The scene seemed to contrast with the president's earlier words, as Trump said that "Americans must unify" and "never allow political violence to take root" in regard to a series of pipe bombs delivered to prominent Democratic figures this week.
Soros was notably among the Trump critics to whom the explosive packages were addressed, along with former President Barack Obama, the Clintons, CNN, Congresswoman Maxine Waters (D-California), actor Robert De Niro and several others.
The president praised the police for finding and arresting the suspect in the attacks, who was identified by the Department of Justice as Cesar Sayoc from Aventura, Florida.
READ MORE: Trump accused of anti-Semitism over claim Soros funds 'elevator screamers'
Soros, 87, is a Hungarian-born American billionaire investor and philanthropist, who is known for promoting a globalist and open-borders agenda. He has been blasting Trump on numerous occasions, saying that his administration was "a danger to the world" and predicting that the US president won't get a second term or even "disappear" before that.
Like this story? Share it with a friend!
You can share this story on social media: