Shocking 'bully video' shows juvenile holding gun to child victim's head (VIDEO)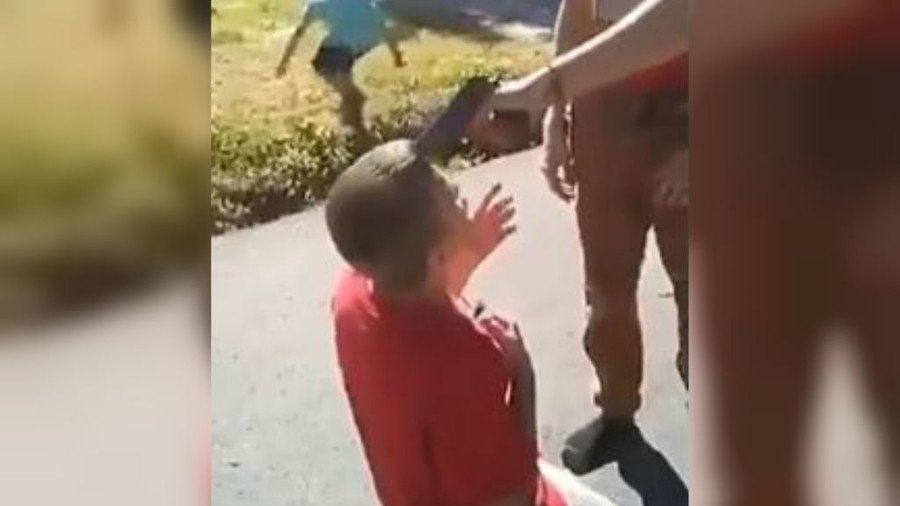 Disturbing footage depicting a juvenile holding a gun to another child's head is being investigated by Missouri police after it went viral on social media.
In the clip, which shows the child in the red shirt being punched repeatedly, a person off camera can be heard angrily instructing the kneeling victim to kiss the feet of an assailant.
The video then takes an even more disturbing turn when a second individual holding a camera phone approaches the cowering victim and points what appears to be a gun at his head. A 17-year-old boy and two other persons of interest have since handed themselves in for questioning, according to Independence Police Department .
The bullied boy in the video has now been identified as 13-year-old Derrin Weddle. He told the local news channel how he was targeted by the suspects while walking to a friends house in Independence, Missouri.
"I didn't know if the gun was real or not. All that was going through my mind is that if I got shot what would my brother feel, what would my mom feel?" he said.
It's still unclear whether the firearm in the video was viable. However, investigators say there are treating the video as a serious incident.
"We take incidents like this very seriously and handling cases involving violent crime is a top priority," Independence police said in a statement, reported the Kansas City Star.
If you like this story, share it with a friend!
You can share this story on social media: